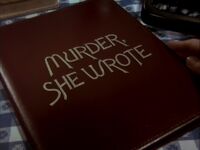 Murder, She Wrote: Season One
Episodes:

Murder, She Wrote: Season Two
Murder, She Wrote: Season Three
Murder, She Wrote: Season Four
Murder, She Wrote: Season Five
Murder, She Wrote: Season Six
Murder, She Wrote: Season Seven
Murder, She Wrote: Season Eight
Murder, She Wrote: Season Nine
Murder, She Wrote: Season Ten
Murder, She Wrote: Season Eleven
Murder, She Wrote: Season Twelve
Murder, She Wrote: TV Movies
The Law & Harry McGraw
Novels
Games
DVDs
After boarding a bus to travel to a convention in Portland, Maine. Jessica and Amos are forced to take refuge from a fierce storm at a remote diner where one of the passengers is discovered murdered.
The music heard as the bus drives through a thunderstorm at the beginning is patterned after Bernard Herrmann's main title cue for the movie Psycho (1960), though it doesn't quote Herrmann's music directly. In the Hitchcock film, Herrmann's theme recurs as Marion Crane ( Janet Leigh ) drives through heavy rain and ultimately finds the Bates Motel - a possible inspiration for the musical reference.
Jessica wears her Burberry trench in this episode.
Two of the stars here are Rue McClanahan and David Wayne. They would later star together on The Golden Girls (1985) as Blanche Devareaux and her father Big Daddy Hollingsworth.
There is a picture on the wall in the diner, it has what looks like a fishing boat. Written on it is 'Grimsby' in large letters and 'deep sea trawler' at the side. Was surprised to see this. Could this be Grimsby in Humberside England?
Victim: Gilbert Stoner
Killer: Ben Gibbons
Cause of death: Strangulation (rigged to look like stabbing with a screwdriver).
Motive: Anger over Stoner's casual dismissal of Gibbons' daughter's death, which he caused 15 years earlier in a bank robbery.
Don Stroud's character describes being on the CB radio when he was hit from behind during the period that the lights were out, but since the power was out at the time and the shot was fired just before the lights came back on, the power had to have been out while he was supposedly on the CB radio and the radio needed power to operate.
This episode was released with the other 21 episodes of the first season of Murder, She Wrote in a variety of formats.
Community content is available under
CC-BY-SA
unless otherwise noted.