We're Getting Mutants in the MCU - The Loop
Play Sound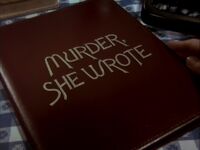 Murder, She Wrote: Season One
Episodes:

"Murder Takes the Bus"
Murder, She Wrote: Season Two
Murder, She Wrote: Season Three
Murder, She Wrote: Season Four
Murder, She Wrote: Season Five
Murder, She Wrote: Season Six
Murder, She Wrote: Season Seven
Murder, She Wrote: Season Eight
Murder, She Wrote: Season Nine
Murder, She Wrote: Season Ten
Murder, She Wrote: Season Eleven
Murder, She Wrote: Season Twelve
Murder, She Wrote: TV Movies
The Law & Harry McGraw
Novels
Games
DVDs
Production Information
[
]
Murder Takes the Bus
Production Number:
59231
Aired:
17 March, 1985
Written By:

Mary Ann Kasica




Michael Scheff

Directed By:

Walter Grauman

Created By:

Richard Levinson




William Link




Peter S. Fischer

Executive Producer:

Peter S. Fischer

Producer

Robert F. O'Neill

Associate Producer

Mike Stevens
Summary
[
]
After boarding a bus to travel to a convention in Portland, Maine. Jessica and Amos are forced to take refuge from a fierce storm at a remote diner where one of the passengers is discovered murdered.
Trivia
[
]
The music heard as the bus drives through a thunderstorm at the beginning is patterned after Bernard Herrmann's main title cue for the movie Psycho (1960), though it doesn't quote Herrmann's music directly. In the Hitchcock film, Herrmann's theme recurs as Marion Crane ( Janet Leigh ) drives through heavy rain and ultimately finds the Bates Motel - a possible inspiration for the musical reference.
Jessica wears her Burberry trench in this episode.
Two of the stars here are Rue McClanahan and David Wayne. They would later star together on The Golden Girls (1985) as Blanche Devereaux and her father Big Daddy Hollingsworth.
There is a picture on the wall in the diner. It has what looks like a fishing boat. Written on it is 'Grimsby' in large letters and 'deep sea trawler' at the side. Was surprised to see this. Could this be Grimsby in Humberside, England?
This is Michael Constantine's first appearance on Murder She Wrote. He also appeared as murder victim Laszlo Dolby in Season 5's sentimental "Wearing of the Green." But he is perhaps best known as Gus Portokalos in the My Big Fat Greek Wedding movies and the spin-off TV series My Big Fat Greek Life.
Victim: Gilbert Stoner
Killer: Ben Gibbons
Cause of death: Strangulation (rigged to look like stabbing with a screwdriver).
Motive: Anger over Stoner's casual dismissal of Gibbons' daughter's death, which he caused 15 years earlier in a bank robbery.
Goofs
[
]
Don Stroud's character describes being on the CB radio when he was hit from behind during the period that the lights were out, but since the power was out at the time and the shot was fired just before the lights came back on, the power had to have been out while he was supposedly on the CB radio and the radio needed power to operate.
When the CB radio needed power to operate & out of commission during the power outage, why dismantle it to prevent help coming, especially when the rest of the story required no help coming, so with the story not requiring any help coming, why dismantle the CB radio to begin with ?
With Stroud's fight with Stoner on the bus was witnessed by Jessica, why didn't she see the strangulation ? All she saw was the dead body, so wouldn't her proving that the bus driver being the killer twice, once when he strangled Stoner & then stabbing him would be considered hearsay, unless, she could have the police from where they took refuge in the diner to have the screwdriver to be dusted, therefore, proving that it isn't hearsay.
At the end when Cyrus brought up that Jessica & Amos wasn't going to be on the bus back to Cabot Cove, how would they get there, FLY !!!!!!!!!??
With how Jessica had seen the fight between Steve & Steiner, it's very odd that she didn't see the Captain rummaging through the deceased's possessions & very odd that she didn't see the confrontation with the victim & the bus-driver, Ben GIbbons & also she never saw the dead body move to a different seat, so with not seeing him move to a different seat, she brings it up in order for her see the screwdriver in his neck?
Starring
[
]
Regular Cast
[
]
Guest Stars
[
]
DVD Release
[
]
This episode was released with the other 21 episodes of the first season of Murder, She Wrote in a variety of formats.
See Also
[
]
External Links
[
]