Jurassic World: Dominion Dominates Fandom Wikis - The Loop
Play Sound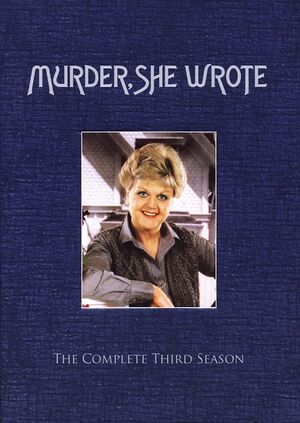 Murder, She Wrote: Season Three
Original Network: CBS
No. of Episodes: 22
Production Line: 621##
Originally Aired: September 28, 1986 - May 10, 1987
Production Credits
Created By: Peter S. Fischer, Richard Levinson & William Link
Executive Producer: Peter S. Fischer
Theme By: John Addison
Chronology
Preceded by: Murder, She Wrote: Season Two
Followed by: Murder, She Wrote: Season Four
Summary
[
]
Jessica spends this year solving even more murders. Jessica starts by investigating the origins of a wedding gift sent to her niece; Jessica's interest is piqued when her niece insists that the gift could only have been sent by her presumed dead uncle, Jessica's brother in law Neil Fletcher. Jessica not only discovers that Neill is alive but that he has been charged with murder, prompting Jessica to dig to the bottom of the case to exonerate him.
Jessica also has another run in with MI6 Agent Michael Hagarty, in which she is swept away at gun point by Michael when two prominent East German Artists defect under less than perfect circumstances. Matters get even more dire when Michael's colleague from MI6 is murdered on the grounds of the British Embassy, with a white rose left with the body, an unusual calling card to be sure. Jessica and Michael must team up and get to the bottom of an old MI6 operation in Africa in order to uncover both the motive for the murder and the identiyy of the assassin.
Jessica then finds herself thrown into the world of amateur boxing, when her old friend Harry McGraw enlists her to fund his prize boxer. She finds herself on record as the boxers manager after Harry is arrested for the murder of a prominent boxing manager, she must discover the secrets of the boxing world to get to the bottom of the case.
Starring
[
]
Regular Cast
[
]
Recurring Cast
[
]
Special Guest Stars
[
]
Episodes
[
]
Picture
Episode Name
Episode Number
Production Code
Original Airdate
Death Stalks the Big Top (Part 1)
45
62104
September 28, 1986
When Jessica's niece receives a silver Leprechaun from someone who has been presumed dead for years, Jessica decides to hunt down the mysterious gift giver from beyond the grave. Her search leads her to a circus, where unnatural things are happening in and out of the ring.
Death Stalks the Big Top (Part 2)
46
62105
October 5, 1986
One murder leads to another as Jessica finds herself chasing down false alibis and the employees of a rival circus. Just when she thinks she has all the funny business behind her, a stunning confession will throw everyone for a loop.
Unfinished Business
47
62103
October 12, 1986
A retired policeman decides to re-examine an old case he never solved, in which Seth was a strong suspect, and returns to the lakeside cabins where the murder occurred, gathering all the old suspects together. It isn't long before there's another murder.
One White Rose for Death
48
62107
October 19, 1986
While attending a concert in Washington, D.C., Jessica gets involved with two East German defectors and a murder.
Corned Beef & Carnage
49
62108
November 2, 1986
Jessica gets involved when her niece, Victoria, is believed to be connected to the murder of her lecherous boss, who had been trying to barter more than just Victoria's advertising skills to a new client.
Dead Man's Gold
50
62102
November 9, 1986
A group of young treasure hunters come to Cabot Cove looking for sunken treasure but after one dies and the other is arrested for her murder, Jessica gets involved both to clear a young man she believes is innocent and to help an old friend she knows tends not to be.
Deadline for Murder
51
62101
November 16, 1986
A veteran reporter, who suffered a heart attack, says his best medicine would be the removal of his publisher who has turned a good paper into a yellow rag. Jessica gets involved after the man ends up dead, but there seems to be more than enough people with motives.
Novel Connection (Part 1)
N/A
N/A
November 19, 1986
Crossover episode with Magnum, P.I.

Higgins is driving visiting Pamela Bates an old editor friend of Robin Masters' to the Estate, when someone tries to run them off the road and over a cliff. But it seems that it's not a case for Thomas, Pamela insists on waiting for her own mainland investigator to arrive and look into it. Pamela's investigator turns out to be famous mystery writer Jessica Fletcher, and so both Jessica and Magnum set about investigating just who wants one of the visiting guests dead, and why.

Magnum on Ice (Part 2)
52
62121
November 23, 1986
Crossover episode with Magnum, P.I.

Jessica offers to help Thomas Magnum, who has been accused of killing a hitman with an unknown target and continues in his corner when another murder occurs.

Obituary for a Dead Anchor
53
62111
December 7, 1986
Cabot Cove becomes a media magnet when a TV news reporter is presumed dead on a chartered boat. But Jessica finds there's even more action off-camera, when the murder turns out to be a publicity ploy by the reporter in order to avoid one of his former sources.
Stage Struck
54
62115
December 14, 1986
The murder of the leading lady's understudy disrupts rehearsals of a play starring two previously married, but now warring, actors, who have a secret of their own to hide.
Night of the Headless Horseman
55
62106
January 4, 1987
Jessica is in the wrong place at the right time to help her friend Dorian Beecher when he is accused of a murder he didn't commit after Nate Findley, his primary rival for Sarah Dupont's affections, is found dead.
The Corpse Flew First Class
56
62114
January 18, 1987
Theft and murder of the courier occur on board a jet bound for London with a plethora of suspects ranging from an older couple to a well-known actress to a former police officer.
Crossed Up
57
62120
February 1, 1987
The phone wires get crossed during a storm and Jessica can't convince anyone that what she heard was real.
Murder in a Minor Key
58
62122
February 8, 1987
Jessica tells the story of her new novel about a composer accused of killing the professor who plagiarized his music.
The Bottom Line is Murder
59
62110
February 15, 1987
A lying TV consumer advocate is killed and suspicion lands on one of the clients whose products he maligned.
Death Takes a Dive
60
62112
February 22, 1987
Jessica visits her old friend Harry McGraw in New York who has become wrangled in the high stakes game of boxing.
Simon Says, Color Me Dead
61
62123
March 1, 1987
An artist is murdered and his prized painting is missing, Jessica investigates.
No Laughing Murder
62
62113
March 15, 1987
After the engagement party for the offspring of two estranged comics, someone is found dead.
No Accounting for Murder
63
62117
March 22, 1987
Grady Fletcher is in big trouble when his boss, a specialist in tax shelters, is found dead and he is the main suspect.
The Cemetery Vote
64
62116
April 5, 1987
The reform mayor dies in a so called "accident" and then the mayor's father is murdered after he demands an investigation of it.
The Days Dwindle Down
65
62124
April 19, 1987
Jessica investigates the possibility that Sam, a recent parolee, went to jail for a crime he didn't commit.
Murder, She Spoke
66
62109
May 10, 1987
A temporary black-out at a recording studio leaves Jessica in the dark when the wealthy soon-to-be-owner is stabbed to death. When the murder weapon matches the cutlery set of an old friend, Jessica takes on the case with a plan to put the real culprit on the record.
Background Information
[
]