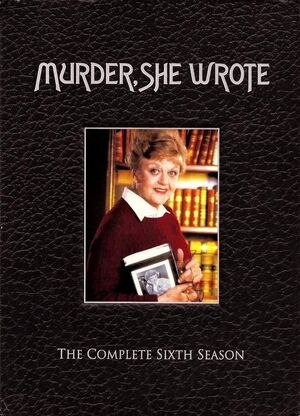 Murder, She Wrote: Season Six
No. of Episodes: 22
Originally Aired: September 24, 1989-May 20, 1990
Production Credits
Created By: Peter S. Fischer, Richard Levinson & William Link
Executive Producer: Peter S. Fischer
Producer: Robert F. O'Neill
Associate Producer: Mike Stevens
Theme By: John Addison
Chronology
Preceded by: Murder, She Wrote: Season Five
Followed by: Murder, She Wrote: Season Seven
Get ready for another chapter in this collection of clever, entertaining mysteries as all 22 episodes of Murder, She Wrote: The Complete Sixth Season arrive on DVD! Rejoin Angela Lansbury in the season that won her the Golden Globe for Best Actress as writer/detective Jessica Fletcher, who's always uncovering crime whether she's nestled in the charming town of Cabot Cove or traveling the world. On the case with her is an impressive lineup of guest stars, including Megan Mullally, Erin Gray and Bill Maher. Featuring exclusive interviews with Angela Lansbury and members of the cast and crew, this 5-disc set includes the beloved sleuth's thrilling involvements with international espionage, high society crime, and low-life mercenaries. The sixth season of Murder, She Wrote earned 4 Emmy and two Golden Globe nominations and thrilled fans and critics alike. Return to the scene of the crime!
Regular Cast
Edit
Angela Lansbury as Jessica Fletcher
Recurring Cast
Edit
Len Cariou as MI6 Agent Michael Haggerty
Ron Masak as Sheriff Morton Metzger
Keith Michell as Dennis Stanton
Richard Paul as Mayor Samuel Booth
William Windom as Dr. Seth Hazlitt
Episodes
Edit
Community content is available under
CC-BY-SA
unless otherwise noted.