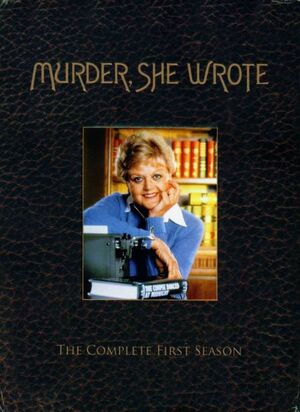 Murder, She Wrote: Season One
Original Network: CBS
No. of Episodes: 22
Production Line: 592##
Originally Aired: September 30, 1984 - April 21, 1985
Production Credits
Created By: Peter S. Fischer, Richard Levinson & William Link
Executive Producer: Peter S. Fischer
Producer: Robert F. O'Neill
Associate Producer: Mike Stevens
Theme By: John Addison
Chronology
Followed by: Murder, She Wrote: Season Two
Summary
[
]
Jessica's first year as a published novelist is certainly a hectic one, She finds herself thrust into numerous murder investigations.
Jessica begins by investigating the death of a PI dressed as Sherlock Holmes at a private party hosted by her new publisher and, in turn, the subsequent murder of seafood mogul Caleb McCallum. Jessica must then face off against a KGB Agent whom is investigating the death of one of his officers, who was killed during the escape of two defectors.
Following the death of Maine's sole Congressman, whose seat Jessica must fill while investigating the death. Jessica also has a notable first meeting with Private Investigator Harry McGraw as well as having to solve a murder with Sheriff Amos Tupper while stranded with a number of strangers, any of whom could be the murderer.
Starring
[
]
Regular Cast
[
]
Recurring Cast
[
]
Special Guest Stars
[
]
Episodes
[
]
Picture
Episode Name
Episode Number
Production Code
Original Airdate
The Murder of Sherlock Holmes
1
59274
September 30, 1984
After the publication of her first murder-mystery novel, Jessica is invited to a costume ball at her publisher's mansion. When a guest dressed as Sherlock Holmes is murdered, all eyes turn to her to out-sleuth the assassin of the deceased "detective."
Deadly Lady
2
59206
October 7, 1984
It's choppy seas for a multi-millionaire who is swept off his yacht and killed during a hurricane. When Jessica tries to investigate, she becomes embroiled in a family storm of deceit and greed.
Birds of a Feather
3
59203
October 14, 1984
Pre-wedding jitters take on a new meaning for the fiance of Jessica's niece when he's accused of a cabaret owner's murder.
Hooray for Homicide
4
59201
October 28, 1984
It's lights, camera and murder when Jessica flies to Los Angeles to protest the movie adaptation of one of her novels. But when the producer ends up murdered, she unwittingly gets cast in the role of prime suspect.
It's a Dog's Life
5
59208
November 4, 1984
Man's best friend gets a bad rap when a fox hunter dies in a riding accident and the authorities try to blame the heir to his estate - his beloved pooch.
Lovers and Other Killers
6
59207
November 18, 1984
Jessica searches for clues hidden in rainy Seattle when her personal secretary is accused of murdering his wealthy girlfriend.
Hit, Run and Homicide
7
59216
November 25, 1984
When a car with a mind of its own runs over a wealthy businessman, Jessica's very eccentric neighbour is accused of covering the tracks.
We're Off to Kill the Wizard
8
59204
December 9, 1984
In a case of imitating life, a disagreeable amusement park owner is found murdered after hiring Jessica to design the House of Horror.
Death Takes a Curtain Call
9
59219
December 16, 1984
It's the final curtain for a man found murdered backstage during the performance of a popular Soviet ballet troupe. The last appearance of Ethan Cragg who disappears from the show with no explanation and is never heard of again.
Death Casts a Spell
10
59211
December 30, 1984
Jessica's deductive abilities are in demand when a flamboyant hypnotist turns up dead, behind locked doors, in front of an audience of journalists whom he had put into a trance.
Capitol Offense
11
59220
January 6, 1985
Jessica is assigned to fill the empty seat of a deceased congressman for a brief period of time and finds a great deal of political game-playing in Washington.
Broadway Malady
12
59209
January 13, 1985
Broadway legend Rita Bristol and her daughter star in a musical produced by her son, not knowing that murder is lurking in the wings.
Murder to a Jazz Beat
13
59212
February 3, 1985
While in New Orleans, Jessica must solve the mysterious murder of a famous musician who died while performing onstage.
My Johnny Lies Over the Ocean
14
59210
February 10, 1985
Jessica's niece is terrorized with reminders of her dead husband on a cruise intended to take her mind off her husband's recent suicide.
Paint Me a Murder
15
59215
February 17, 1985
The life of a famous artist is threatened on what would be otherwise an idyllic Mediterranean island.
Tough Guys Don't Die
16
59223
February 24, 1985
Jessica meets tough-as-nails Harry McGraw when they must pinpoint the motive for the murder of a private detective.
Sudden Death
17
59217
March 3, 1985
Jessica suddenly must learn all about football when she inherits an interest in a professional team.
Footnote to Murder
18
59221
March 10, 1985
An unpublished manuscript is stolen and its author murdered during an awards convention.
Murder Takes the Bus
19
59231
March 17, 1985
After boarding a bus to travel to a convention in Boston, Jessica and Amos are forced to take refuge from a fierce storm at a remote diner where one of the passengers is discovered murdered.
Armed Response
20
59228
March 31, 1985
Over Jessica's protests, she is taken to a hospital after a minor accident in the airport.
Murder at the Oasis
21
59222
April 7, 1985
An unpopular show-business personality discovers that elaborate security systems are no guarantee of safety.
Funeral at Fifty-Mile
22
59226
April 21, 1985
Jessica has to unravel the secrets and threats at the funeral of a friend in Wyoming.
Background Information
[
]
See Also
[
]