(5 intermediate revisions by 2 users not shown)
Line 1:
Line 1:
 
+

{{Season|Image = Season9DVD.jpg|Title = Murder, She Wrote: Season Nine|Episodes = 22|Aired = September 20, 1992-May 16, 1993|CreatedBy = Peter S. Fischer, Richard Levinson & William Link|ExecProducer = Peter S. Fischer|Producer = Robert F. O'Neill|Associateprod = Mike Stevens|ThemeBy = John Addison|Previous = [[Murder, She Wrote: Season Eight]]|Next = [[Murder, She Wrote: Season Ten]]|Network = CBS}}

−

{{Season9}}

 
 
 
 
+

== Summary ==

 
+

Everyone's favorite sleuth is back and better than ever in Murder, She Wrote: Season Nine! This 5-disc set includes all 22 episodes starring Angela Lansbury in the role that won her the Golden Globe award for Best Actress and a Primetime Emmy Award nomination for Outstanding Lead Actress. Writer/detective Jessica Fletcher (Lansbury) continues to follow the clues to uncover the truth, both at home in the charming town of Cabot Cove and on her many travels. Joining her at the crime scenes are stellar guest stars, including David Soul, Harvey Fierstein, Neil Patrick Harris, John Polito and Amy Brenneman. It's no mystery why fans love Murder, She Wrote during its incredible run, the adored series earned 41 Primetime Emmy nominations, 16 Golden Globe nominations and countless viewers.

 
+
 
+

== Starring ==

 
+

* Angela Lansbury as Jessica Fletcher

 
+

* Ron Masak as Sheriff Morton Metzger

 
+

* William Windom as Drt. Seth Hazlitt

 
+

* Louis Herthum as Deputy Andy Broom

 
+

* Len Cariou as M.I.6 Agent Michael Haggerty

 
+

* Keith Mitchell as Dennis Stanton (final apperance, until the spin-off book series)

 
+
 
+

== Episodes ==

 
+

# Murder In Milan

 
+

# Family Secrets

 
+

# The Mole

 
+

# The Wind Around The Tower

 
+

# Dead File

 
+

# Night Of The Coyote

 
+

# Sugar & Spice, Malice & Vice

 
+

# The Classic Murder

 
+

# A Christmas Secret

 
+

# The Sound Of Murder

 
+

# Final Curtain

 
+

# Double Jeopardy

 
+

# Dead Eye

 
+

# Killer Radio

 
+

# The Petrified Florist

 
+

# Threshold Of Fear

 
+

# The Big Kill

 
+

# Dead To Rights

 
+

# Lone Witness

 
+

# Ship Of Thieves

 
+

# The Survivor

 
+

# Love's Deadly Desire

 

[[Category:Murder, She Wrote Seasons]]

 

[[Category:Murder, She Wrote Seasons]]
---
Revision as of 19:05, 5 April 2019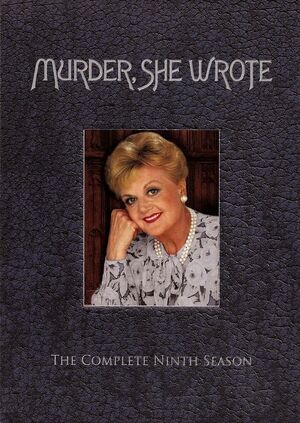 Murder, She Wrote: Season Nine
Original Network: CBS
No. of Episodes: 22
Originally Aired: September 20, 1992-May 16, 1993
Production Credits
Created By: Peter S. Fischer, Richard Levinson & William Link
Executive Producer: Peter S. Fischer
Producer: Robert F. O'Neill
Associate Producer: Mike Stevens
Theme By: John Addison
Chronology
Preceded by: Murder, She Wrote: Season Eight
Followed by: Murder, She Wrote: Season Ten
Summary
Everyone's favorite sleuth is back and better than ever in Murder, She Wrote: Season Nine! This 5-disc set includes all 22 episodes starring Angela Lansbury in the role that won her the Golden Globe award for Best Actress and a Primetime Emmy Award nomination for Outstanding Lead Actress. Writer/detective Jessica Fletcher (Lansbury) continues to follow the clues to uncover the truth, both at home in the charming town of Cabot Cove and on her many travels. Joining her at the crime scenes are stellar guest stars, including David Soul, Harvey Fierstein, Neil Patrick Harris, John Polito and Amy Brenneman. It's no mystery why fans love Murder, She Wrote during its incredible run, the adored series earned 41 Primetime Emmy nominations, 16 Golden Globe nominations and countless viewers.
Starring
Angela Lansbury as Jessica Fletcher
Ron Masak as Sheriff Morton Metzger
William Windom as Drt. Seth Hazlitt
Louis Herthum as Deputy Andy Broom
Len Cariou as M.I.6 Agent Michael Haggerty
Keith Mitchell as Dennis Stanton (final apperance, until the spin-off book series)
Episodes
Murder In Milan
Family Secrets
The Mole
The Wind Around The Tower
Dead File
Night Of The Coyote
Sugar & Spice, Malice & Vice
The Classic Murder
A Christmas Secret
The Sound Of Murder
Final Curtain
Double Jeopardy
Dead Eye
Killer Radio
The Petrified Florist
Threshold Of Fear
The Big Kill
Dead To Rights
Lone Witness
Ship Of Thieves
The Survivor
Love's Deadly Desire
Community content is available under
CC-BY-SA
unless otherwise noted.