We're Getting Mutants in the MCU - The Loop
Play Sound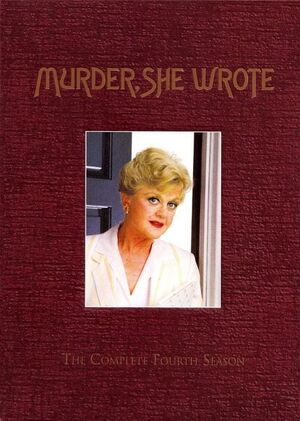 Murder, She Wrote: Season Four
Original Network: CBS
No. of Episodes: 22
Production Line: 633##
Originally Aired: September 20, 1987 - May 8, 1988
Production Credits
Created By: Peter S. Fischer, Richard Levinson & William Link
Executive Producer: Peter S. Fischer
Theme By: John Addison
Chronology
Preceded by: Murder, She Wrote: Season Three
Followed by: Murder, She Wrote: Season Five
Summary
[
]
Jessica's trip to Paris, to view her friend's debut fashion line, is intterrupted when the business partner of her friend Eva Taylor is found murdered. Jessica is dragged further into the investigation when the evidence found by the French police indicates that Eva herself may be the murderer. Jessica's cousin makes another appearance when an old flame of hers, now the third Viscount Blackraven, dispatches his solicitor to request her presence at his country estate. The two are in the process of rekindling their relationship when the Viscount is murdered, and so Emma sets out to discover who killed him.
Jessica finds herself forced to host a dinner party when some less than friendly relatives of Amos' come to town. But Jessica finds her attempt to broker peace less than successful when someone poisons her meal, leading to the death of Amos' brother in law, leaving his sister as the prime suspect!
Jessica also finds herself called upon by an old friend who is running for the United States Senate. Jessica is more than happy to come onboard as the campaigns speech writer, however when the cnadidates campaign managers turns up dead it isn't Jessica's writing skills which are called upon. Jessica must endeavour to find the truth, as both her friends freedom and political career at stake. However things get even more complicated when the press reveal photographs which appear to show that the candidate and her campaign manager were having an affair. Not only was the candidates husband aware of these photos, but it was the opposition that leaked them to the press. Politics can be a deadly business!
Trivia
[
]
Juliet Prowse's last television acting performance.
Six of the characters have names derived from jazz musicians or critics. Valerie and Kim Bechet are named after Sidney Bechet, the mixed-race Creole clarinetist and soprano saxophonist from New Orleans who first performed in Europe in 1919 and spent the 1950's, the last decade of his life, in the country he considered his ancestral homeland, France. Inspector Hugues Panassié is named after a French jazz critic who wrote a number of books about the music, including "The Real Jazz" (1942) and "Louis Armstrong" (in French in 1969 and his own English translation in 1971). Officer Luter is named after Claude Luter, French bandleader who used Bechet as a guest artist in the late 1940's and early 1950's. Eva Taylor is named after a 1920's jazz singer who was the wife of Clarence Williams, a Black bandleader and songwriter who used her on a lot of his records. And Lu Watters was the name of a (male) jazz trumpeter who founded a New Orleans-style revival band in San Francisco in 1940.
Juliet Prowse(Valerie) and Angela Lansbury (Jessica) have both starred alongside Elvis Presley, Juliet Prowse in G.I. Blues (1960) playing cabaret singer/dancer Lili and Angela Lansbury in Blue Hawaii (1961) as the mother of Chadwick (Elvis Presley)
Goofs
[
]
In scenes that take place in unmistakably Parisian exterior locations, Angela Lansbury is doubled by a different actress of similar height and weight who wears the same outfits, but whose hair is slightly darker and is cut shorter in the back. In most scenes, the actress is seen only from the rear at a distance with cars positioned in front of her, and when she arrives at the Jules Verne Restaurant, her face is obscured by another character's hat as she turns to face the camera; under normal circumstances, these would be unusual ways to block scenes that feature the star of a show.
Starring
[
]
Regular Cast
[
]
Recurring Cast
[
]
Episodes
[
]
Picture
Episode Name
Episode Number
Production Code
Original Airdate
A Fashionable Way to Die
67
63303
September 20, 1987
In Paris, a fashion designer with financial trouble is accused of killing a shady loan shark.
When Thieves Fall Out
68
63304
September 27, 1987
A parolee released after 20 years in prison for a murder he says he did not commit, vows to find out who did.
Witness for the Defense
69
63311
October 4, 1987
Jessica goes to Quebec to testify at the trial of a friend who is accused of killing his wife and burning his house.
Old Habits Die Hard
70
63308
October 11, 1987
A terminally ill nun seems to have committed suicide which would be an unacceptable sin.
The Way to Dusty Death
71
63310
October 25, 1987
After the "accidental" death of a tycoon, his associates battle for position to succeed him.
It Runs in the Family
72
63313
November 1, 1987
Jessica's cousin Emma in London has a new problem when someone serves her lover poisoned herring.
If It's Thursday, It Must Be Beverly
73
63309
November 8, 1987
When Deputy Martin becomes a widower by murder, the investigation turns up some very surprising activity.
Steal Me a Story
74
63316
November 15, 1987
Jessica makes an appointment with TV producer Sid Sharkey when she learns he is trying to appropriate her latest novel for his TV show, but when Sid turns up dead, Jessica is one of the prime suspects.
Trouble in Eden
75
63301
November 22, 1987
Hostility and other surprises await Jessica in a town where she's posing as her friend to investigate the rumoured murder of the friend's sister.
Indian Giver
76
63306
November 29, 1987
A resident of Cabot Cove threatens a Native American who claims to own the land, and later is found dead.
Doom With a View
77
63314
December 13, 1987
Grady gets into trouble, again, when he is found with the body of woman known from his college days and now had been dating a frat brother who was married.
Who Threw the Barbitals in Mrs. Fletcher's Chowder?
78
63320
January 3, 1988
When Amos' sister and her in-laws descend upon Cabot Cove, Jessica hosts a dinner party with homicidal results, leaving the finger pointing at the Sheriff's sister.
Harbinger of Death
79
63302
January 24, 1988
While in Washington, Jessica visits her niece Carrie whose husband is an astronomer dedicating to discovering a comet. When a defense contractor is found murdered and the telescope pointed at the scene of the crime, Jessica must prove her nephew-in-law is innocent.
Curse of the Daanau
80
63319
February 7, 1988
Seth's family is touched by an ancient curse attached to the history of a ruby.
Mourning Among the Wisterias
81
63312
February 14, 1988
Jessica is summoned to help a friend with his play and receives an offer of marriage she didn't expect. Even more surprised are the man's plotting family.
Murder Through the Looking Glass
82
63307
February 21, 1988
While in Connecticut for a convention, Jessica hears the dying confession of a hit man and uncovers a mysterious safe house housing an important foreign dignitary.
A Very Good Year for Murder
83
63305
February 28, 1988
The Gambini Winery is being extorted by organized crime and it's up to Jessica to uncover who is behind the murder of a mafia hit man.
Benedict Arnold Slipped Here
84
63323
March 13, 1988
Someone wants the old historic house enough to kill for it and its supposed hidden treasure and Jessica is executor of the late owner's will.
Just Another Fish Story
85
63322
March 27, 1988
Jessica is delighted to return to New York City with the announcement of her nephew's impending engagement. But when a restaurant employee is found dead, the engagement is threatened.
Showdown in Saskatchewan
86
63315
April 10, 1988
Jessica's niece is smitten with a rodeo rider and refuses to believe he could have committed a murder.
Deadpan
87
63318
May 1, 1988
When one of Jessica's former students brings a play based on one of her novels to Broadway, she finds herself in the middle of a war of words between rival critics.
The Body Politic
88
63317
May 8, 1988
Jessica comes to the aid of yet another dear old friend running as a senatorial candidate. When the candidate's campaign manager is murdered, Jessica must help prove her innocence.
Background Information
[
]