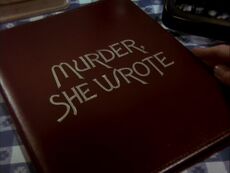 Murder, She Wrote: Season One
Murder, She Wrote: Season Two
Murder, She Wrote: Season Three
Murder, She Wrote: Season Four
Murder, She Wrote: Season Five
Murder, She Wrote: Season Six
Murder, She Wrote: Season Seven
Episodes:

"Murder, Plain & Simple"
Murder, She Wrote: Season Eight
Murder, She Wrote: Season Nine
Murder, She Wrote: Season Ten
Murder, She Wrote: Season Eleven
Murder, She Wrote: Season Twelve
Murder, She Wrote: TV Movies
The Law & Harry McGraw
Novels
Games
DVDs
Production Information
[
]
Production Number:
Aired: April 28th, 1991
Written By: Chris Manheim
Directed By: Vincent McEveety
INSERT EPISODE SCREENSHOT HERE
Created By: Peter S. Fischer

and Richard Levinson

& William Link

Executive Producers: Peter S. Fischer
Producers: Anthony Magro

Robert F. O'Neill

Robert E. Swanson

Robert Van Scoyk
Summary
[
]
While traveling through Pennsylvania with Reuben Stoltz, the liaison to her publisher, on her way to get a quilt for her nephew, Jessica's car is accidentally run off the road by an Amish buggy. With Reuben injured, the two end up spending time with the local Amish sect, and find a scarecrow in the fields is actually a member of the sect, having been murdered. Jessica, naturally sets out to solve the crime.
Trivia
[
]
Jessica mentions that she's going to get a quilt for her nephew; this is likely Grady Fletcher, but she has been shown to have other nephews, and she would've mentioned him by name if she meant him.
Fourth episode in which the murder is done in self-defense; the others are Footnote to Murder, If It's Thursday, It Must Be Beverly & Just Another Fish Story.
Victim: Jacob Beiler
Killer: Sarah Lapp
Cause of death: Stabbed with a pitchfork
Motive: Self defense when he was going to attack her, after she threatened to reveal that she had gotten pregnant by him.
The major goof in this episode, is that all of the other Amish women took it out on a rape victim & completely ingores who got her with child, don't you think that's highly odd, given that they are women as well ?
Starring
[
]
Regular Cast
[
]
Angela Lansbury as Jessica Fletcher
Guest Stars
[
]
Todd Eric Andrews as Ethan Kaufman
Hunt Block as Reuben Stoltz
Martha Byrne as Sarah Lapp
John Ireland as Sheriff Hainer
Jay Robinson as Bishop Burkhardt
Jennifer Runyon as Rebecca Beiler
Michael Sarrazin as Jacob Beiler
Arlen Dean Snyder as Franz Kaufmann
Co-Stars
[
]
Ed McCready as Driver
DVD Release
[
]
Episode Chronology
[
]
See Also
[
]
External Links
[
]