Jurassic World: Dominion Dominates Fandom Wikis - The Loop
Play Sound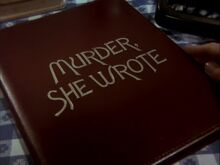 Murder, She Wrote: Season One
Murder, She Wrote: Season Two
Murder, She Wrote: Season Three
Murder, She Wrote: Season Four
Murder, She Wrote: Season Five
Episodes:

"Mr. Penroy's Vacation"
Murder, She Wrote: Season Six
Murder, She Wrote: Season Seven
Murder, She Wrote: Season Eight
Murder, She Wrote: Season Nine
Murder, She Wrote: Season Ten
Murder, She Wrote: Season Eleven
Murder, She Wrote: Season Twelve
Murder, She Wrote: TV Movies
The Law & Harry McGraw
Novels
Games
DVDs
Production Information
[
]
Production Number:
Aired: November 6th, 1988
Written By: Robert E. Swanson
Directed By: Anthony (Pullen) Shaw
INSERT EPISODE SCREENSHOT HERE
Created By: Peter S. Fischer, Richard Levinson & William Link
Executive Producers: Peter S. Fischer
Producer: Robert E. Swanson
Summary
[
]
Jessica is perplexed by the death of an elderly man as suspicion points to the two simple-minded spinster sisters he was living with.
Trivia
[
]
This was Ron Masak's debut as Sheriff Mort Metzger.
This episode has some similarities to Murder Takes the Bus, as both involve a member of a band of thieves getting murdered by someone not related to their robbery, and said robber's partners showing up to find where they hid the loot.
It's revealed that Amos Tupper retired and moved to Kentucky.
Seth mentions Mort's wife, Adelaide, although she never appears over the course of the series.
Victim: Clifford Coleson
Killer: Marilee "Lee" Coleson
Cause of death: Stabbed with pitchfork.
Motive: He left her once he helped commit the train robbery and had no plans to split the money with her.
Goofs
[
]
Jessica makes a fleeting reference to long-time regular Sheriff Tupper, saying that he "went back to Kentucky." But for 4 years, fans had been listening to Tupper do what might have been the worst Maine accent in history in his portrayal as a local.
When the Appletree sisters buried Mr. Penroy's body, before they covered his body with a tablecloth, Hank Jones' arm moved all on it's own.
The Appletree sisters were not arrested despite commiting numerous crimes throughout the episode.
Starring
[
]
Regular Cast
[
]
Angela Lansbury as Jessica Fletcher
Recurring Cast
[
]
Ron Masak as Sheriff Mort Metzger (Debut Appearance)
Richard Paul as Mayor Sam Booth
William Windom as Dr. Seth Hazlitt
Guest Stars
[
]
Norman Alden as Investigator Bart Klapper
Candice Azzara as Marilee Penroy
Don Calfa as Clifford Coleson
Tim Choate as Daryl Croft
Henry Jones as Morris Penroy
Joan Leslie as Lillian Appletree
Teresa Wright as Helen Appletree
DVD Release
[
]
Episode Chronology
[
]
See Also
[
]
External Links
[
]