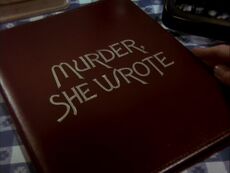 Murder, She Wrote: Season One
Murder, She Wrote: Season Two
Murder, She Wrote: Season Three
Murder, She Wrote: Season Four
Murder, She Wrote: Season Five
Murder, She Wrote: Season Six
Murder, She Wrote: Season Seven
Episodes:

"Moving Violation"
Murder, She Wrote: Season Eight
Murder, She Wrote: Season Nine
Murder, She Wrote: Season Ten
Murder, She Wrote: Season Eleven
Murder, She Wrote: Season Twelve
Murder, She Wrote: TV Movies
The Law & Harry McGraw
Novels
Games
DVDs
Production Information
[
]
Production Number:
Aired: February 3rd, 1991
Written By: Robert E. Swanson
Directed By: Anthony (Pullen) Shaw
INSERT EPISODE SCREENSHOT HERE
Created By: Peter S. Fischer

and Richard Levinson

& William Link

Executive Producers: Peter S. Fischer
Producers: Anthony Magro

Robert F. O'Neill

Robert E. Swanson

Robert Van Scoyk
Summary
[
]
Sheriff Metzer defies political pressure and arrests an ambassador's son for various charges. Later, the son is found dead and Metzger finds himself charged with murder.
Trivia
[
]
The title refers to a ticket or a summons issued by an officer of the law for a violation of the law committed by the driver of a vehicle while it is in motion as opposed to a violation related to parking, driver's license or vehicle registration.
This was Harry Guardino's second, and final, appearance as Jessica's reporter friend Haskell Drake. It also was his third appearance overall.
David Lansbury, the actor who plays the ambassador's son, is actually related to Angela Lansbury in real life; he is her nephew and co-starred a total of three times on the show. David's uncle, Bruce Lansbury, one of Angela's brothers, is also connected to the production of Murder, She Wrote.
Guest star Susan Clark is probably best known for starring on the sitcom Webster with her real life husband, the late Alex Karras.
Meredith Hellman's first name was never mentioned in the episode.
Victim: Bradley "Brad" Hellman
Killer: Meredith Hellman
Cause of death: Two gunshots.
Motive: His wild antics were affecting the reputations of both herself and his father, Chandler Hellman.
Starring
[
]
Regular Cast
[
]
Angela Lansbury as Jessica Fletcher
Recurring Cast
[
]
Ron Masak as Sheriff Morton Metzger
Richard Paul as Mayor Samuel Booth
Harry Guardino as Haskell Drake
Will Nye as Deputy Floyd
Guest Stars
[
]
Susan Clark as Meredith Hellman
Jack Colvin as Ambassador Chandler Hellman
Robert Ginty as Lt. Avery Powell
Philip Baker Hall as Len Costner
David Lansbury as Bradley "Brad" Hellman
Stephen Macht as Attorney Jason Farrell
Suzanne Snyder as Morgan Phillips
Co-Stars
[
]
Lois de Banzie as Phyllis Costner
Barbara C. Adside as Janet Costner
Phyllis Franklin as Mabel
Daniel Ben Wilson as Mickey
Jason Bo Sharon as Billy
Britt Leach as Arnold, Dsk Manager (uncredited)
DVD Release
[
]
Episode Chronology
[
]
See Also
[
]
External Links
[
]