Jurassic World: Dominion Dominates Fandom Wikis - The Loop
Play Sound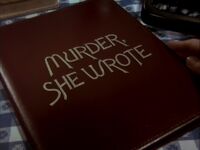 Murder, She Wrote: Season One
Murder, She Wrote: Season Two
Murder, She Wrote: Season Three
Murder, She Wrote: Season Four
Episodes:

"Mourning Among the Wisterias"
"Deadpan"
Murder, She Wrote: Season Five
Murder, She Wrote: Season Six
Murder, She Wrote: Season Seven
Murder, She Wrote: Season Eight
Murder, She Wrote: Season Nine
Murder, She Wrote: Season Ten
Murder, She Wrote: Season Eleven
Murder, She Wrote: Season Twelve
Murder, She Wrote: TV Movies
The Law & Harry McGraw
Novels
Games
DVDs
Production Information
[
]
Production Number:
Aired: February 14th, 1988
Written By: (Larry) Scott Anderson
Directed By: Walter Grauman
INSERT EPISODE SCREENSHOT HERE
Created By: Peter S. Fischer, Richard Levinson & William Link
Executive Producers: Peter S. Fischer
Producer: Robert F. O'Neill
Summary
[
]
Jessica is summoned to Savannah to help a friend with his play and receives an offer of marriage she didn't expect. Even more surprised are the man's plotting family.
Trivia
[
]
The name and traits of the lead character, Eugene, appear to be inspired, by Eugene O'Neill, author of A Long Day's Journey Into Night.
This marks the second time Rene Auberjonois has appeared in Murder, She Wrote (1984). His first was in Murder, She Wrote: Murder in a Minor Key (1987).
Lois Nettleton utters a line spoken by Bette Davis in All About Eve (1950): "Southern women are seldom starved for sex."
Matt McCoy has a bare-chest scene.
Rene Auberjonois and Matt McCoy also starred together in Police Academy 5: Assignment: Miami Beach (1988).
Victim: Johnathan Keeler
Killer: Crystal Wendle
Cause of death: Gunshot.
Motive: He had learned she was poisoning her uncle, Eugene McLendon, so she could inherit his money and use it to help her husband Todd Wendle.
Goofs
[
]
From the time Jessica is seen reading in her room when she hears the shot up until immediately after the shooting with the family gathered around with the detective questioning Eugene, Jessica's pearl necklace disappears/reappears between shots.
Toward the finale, Jessica is wearing a dark dress with earrings and pearls. She goes into the kitchen, and the pearls are gone, she is bare necked. A few moments later, she is in the living room and wearing the pearls again.
Starring
[
]
Regular Cast
[
]
Angela Lansbury as Jessica Fletcher
Recurring Cast
[
]
Guest Stars
[
]
René Auberjonois as Captain Walker Thorn
Penny Fuller as Grace Banfield
Frank Gorshin as Arnold Goldman
Matt McCoy as Todd Wendle
Barry Nelson as Eugene McLendon
Lois Nettleton as Deirdre French
Linda Purl as Crystal Wendle
Elliott Reid as Johnathan Keeler
Beah Richards as Ola Mae Ramis
DVD Release
[
]
Episode Chronology
[
]
See Also
[
]
External Links
[
]