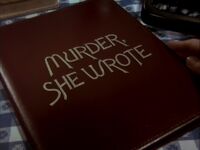 Murder, She Wrote: Season One
Murder, She Wrote: Season Two
Murder, She Wrote: Season Three
Murder, She Wrote: Season Four
Murder, She Wrote: Season Five
Murder, She Wrote: Season Six
Murder, She Wrote: Season Seven
Murder, She Wrote: Season Eight
Murder, She Wrote: Season Nine
Murder, She Wrote: Season Ten
Episodes:

"Love and Hate in Cabot Cove"
"Roadkill"
Murder, She Wrote: Season Eleven
Murder, She Wrote: Season Twelve
Murder, She Wrote: TV Movies
The Law & Harry McGraw
Novels
Games
DVDs
Production Information
[
]
Production Number:
Aired:
Written By:
Directed By:
INSERT EPISODE SCREENHOT HERE
Created By:
Executive Producers:
Producer
Summary
[
]
Jessica returns to Cabot Cove to discover why her accountant is not paying her bills.
Victim: Ethan Loomis
Killer: Irene Macinoy
Cause of Death: Gunshot
Motive: Was angry that Candace Bennett chose Ethan over her son Chad and thought getting rid of Ethan was just the thing to bring them together.
Goofs
[
]
Irene says Mozart was German, but he was Austrian, and has appeared on Austrian currency since his death.
Irene may have heard as to where Ethan was driving given her listening to opera, but does she have the knowledge of firearms to kill Ethan Loomis & was it ever established as to how she knew how to use it ?
Starring
[
]
Regular Cast
[
]
Angela Lansbury as Jessica Fletcher
Recurring Cast
[
]
Guest Stars
[
]
Richard Beymer as Lou Keramides
Matthew Flint as Dep. Ethan Loomis
Wings Hauser as Sam Bennett
Louis Herthum as Deputy Andy Broom
Ron Masak as Sheriff Mort Metzger (as Ron Másak)
Carrie Snodgress as Irene Macinoy
Adam Trese as Chad Macinoy
Liz Vassey as Candace Bennett
William Windom as Dr. Seth Hazlitt
Penelope Windust as Laura Bennett
David Stenstrom as Craps Player
Jayson Kane as Waiter
Rick Scarry as Minister
Trent Dolan as Jason David
James Willett as Croupier
Episode Chronology
[
]
See Also
[
]
External Links
[
]