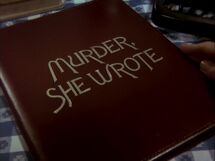 Murder, She Wrote: Season One
Murder, She Wrote: Season Two
Murder, She Wrote: Season Three
Murder, She Wrote: Season Four
Murder, She Wrote: Season Five
Murder, She Wrote: Season Six
Murder, She Wrote: Season Seven
Murder, She Wrote: Season Eight
Murder, She Wrote: Season Nine
Episodes:

"The Mole"
"Dead Eye"
"Love's Deadly Desire"
Murder, She Wrote: Season Ten
Murder, She Wrote: Season Eleven
Murder, She Wrote: Season Twelve
Murder, She Wrote: TV Movies
The Law & Harry McGraw
Novels
Games
DVDs
Production Information
[
]
Production Number:
Aired:
Written By:
Directed By:
INSERT EPISODE SCREENHOT HERE
Created By:
Executive Producers:
Producer
Summary
[
]
Sibella Stone is a best-selling novellist, just like Jessica Fletcher. But, one night, her personal assistant, winds up dead. Could it have been a case of mistaken identity? That's for Jessica to find out.
Victim: Marian King
Killer: Sibella Stone
Cause of Death: Shoved off a cliff, after being struck on the head with a lead pipe.
Motive: To get revenge on both Marian and her husband, Derek Stone, because of their affair, while making it appear she was the target to avert suspicion.
There was no story whatsoever for Sibella to know about Monroe's criminal history in order for her to blackmail him into helping her, now is there ?
[
]
Then with where her assistant was found, there were no injuries on her bodice to show as to where she was pushed from, now was there ?
[
]
Remember, Sibella said that she does not go near the water's edge, so with where the assistant was pushed, she would have sustained bodily harm after she was pushed, right ?
Then, the same goes for The Big Kill. Both victims , in these two episodes, showed that both of them was hit with a blunt object, but yet, they failed to prove who handled the object that was used, the same in Thicker Than Water, when there was fight between Keller & Zach, to put the blame on Wayne, the knife that Wayne had inflicted at the denouement of the fight was found among the ropes on the dock, but yet, in The Big Kill & Love's Deadly Desire, they failed to prove who used the blunt object or finding the object.