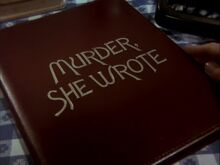 Murder, She Wrote: Season One
Murder, She Wrote: Season Two
Episodes:

"Keep the Home Fries Burning"
Murder, She Wrote: Season Three
Murder, She Wrote: Season Four
Murder, She Wrote: Season Five
Murder, She Wrote: Season Six
Murder, She Wrote: Season Seven
Murder, She Wrote: Season Eight
Murder, She Wrote: Season Nine
Murder, She Wrote: Season Ten
Murder, She Wrote: Season Eleven
Murder, She Wrote: Season Twelve
Murder, She Wrote: TV Movies
The Law & Harry McGraw
Novels
Games
DVDs
Production Number:
Aired:
January 19, 1986
Written By:
Philip Gerson
Directed By:
Peter Crane
INSERT EPISODE SCREENHOT HERE
Created By:
Peter S. Fischer and Richard Levinson & William Link
Executive Producers:
Producer
Robert F. O'Neill
Poisoned strawberry preserves served at the Joshua Peabody Inn result in murder.
The exteriors of Bo Dixon's diner was used for The Rockford Files (1974).
Mr. Dupree, the chef, sarcastically refers to Jessica as 'the Julia Child of Cabot Cove' when Jessica comments on how the food could have poisoned the dead woman. Julia Child was a famous American cook and television personality, known especially for her French cooking, who passed away in 2004.
The title comes from the patriotic British song from World War I, "Keep the Home-Fires Burning ('Till the Boys Come Home)" written by Ivor Novello.
The politician threatens that Mr. Hawthorne is getting "dangerously close to libel" for accusing the politician of being "crooked", Libel is a charge for false written statements. If anything, Hawthorne would be guilty of slander, but as he correctly points out, only if his statements are false.
Alan Young & Henry Polic II would go on to have careers as voice actors in their later years, with the former probably best known as Scrooge McDuck on DuckTales.
Victim: Betty Fiddler
Killer: Wilhelmina Fraser
Cause of death: Poisoning via tainted preserves.
Motive: To spite her husband, Harrison Fraser III, because of his affair with Betty.
Although Cornelia is supposed to be a longtime resident of Cabot Cove and seems to be familiar with Dr. Hazlitt, she mispronounces his last name.
I have a feeling that the exterior of the hospital is on the Warner Bros. Ranch Lot, not the Universal Studios Lot. The hospital exteriors looked more like the Hospital that the Dukes of Hazzard used & was featured in the episode involving a kid's basketball game, in which they had to get the birth certificate to prove the boy's age that would allow him to play for the team.
Angela Lansbury as Jessica Fletcher
Tom Bosley as Sheriff Amos Tupper
William Windom as Dr. Seth Hazlitt
Sharon Acker as Wilhelmina Fraser
Norman Alden as Mercer Hawthorne
Orson Bean as Ebeneezer McEnery
Gary Crosby as Tourist With Camera
Anne Lloyd Francis as Margo Perry
William Lucking as Bo Dixon
John McCook as Harrison Fraser III
Donna Pescow as Cornelia Montique
Henry Polic II as Chef Alan Dupree
Marcia Rodd as Betty Fiddler
Alan Young as Floyd Nelson
Community content is available under
CC-BY-SA
unless otherwise noted.