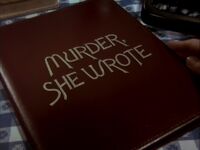 Murder, She Wrote: Season One
Murder, She Wrote: Season Two
Murder, She Wrote: Season Three
Murder, She Wrote: Season Four
Episodes:

"Just Another Fish Story"
"Deadpan"
Murder, She Wrote: Season Five
Murder, She Wrote: Season Six
Murder, She Wrote: Season Seven
Murder, She Wrote: Season Eight
Murder, She Wrote: Season Nine
Murder, She Wrote: Season Ten
Murder, She Wrote: Season Eleven
Murder, She Wrote: Season Twelve
Murder, She Wrote: TV Movies
The Law & Harry McGraw
Novels
Games
DVDs
Production Information
[
]
Production Number:
Aired: March 27th, 1988
Written By: Philip Gerson
Directed By: Walter Grauman
INSERT EPISODE SCREENSHOT HERE
Created By: Peter S. Fischer, Richard Levinson & William Link
Executive Producers: Peter S. Fischer
Producer: Robert E. Swanson
Summary
[
]
Jessica is in New York to visit her nephew Grady and to meet his fiancée, Donna Mayberry. She's also there to see the restaurant she's invested in. She learns very quickly - starting with the cab driver coming in from the airport - just how cut throat the New York restaurant business can be. Jessica is treated rudely by the restaurant Maitre d', Chaz Crewe (Dick Gautier), but finally manages get a table. When Crewe is found dead in the kitchen the next day, Jessica has a murder to solve. As for Grady and Donna, it's obvious to Jessica that they need to open up to one one another if they're to be happy.
Trivia
[
]
First appearance of Donna Mayberry, Grady's fiancee and future wife.
The late Dick Gautier, who played Chaz, is probably best known for the role of goofy robot Hymie on Get Smart.
Lt. Rupp, played by Norman Fell brings up of how young folk would rather live together, Norman Fell makes a reference to his old tv show Three's Company.
Fourth episode in which the "murder" was done in self-defense; the others are Footnote to Murder, If It's Thursday, It Must Be Beverly, & Indian Giver.
Victim: Chaz Crewe
Killer: Donna Mayberry (sort of).
Cause of death: Frozen to death after being slashed with a yellowtail fish and knocked out in the restaurant freezer.
Motive: Self-defense when Chaz attacked her after she refused to help him steal food from the restaurant and sell it.
Starring
[
]
Regular Cast
[
]
Angela Lansbury as Jessica Fletcher
Recurring Cast
[
]
Michael Horton as Grady Fletcher
Debbie Zipp as Donna Mayberry (Debut Appearance as Donna, was Terry in "The Days Dwindle Down" S03E21)
Guest Stars
[
]
Sonny Bono as Valentino Regori
Jack Carter as Harry Finley
Norman Fell as Lieutenant Edward Rupp
Dick Gautier as Chaz Crewe
James Carroll Jordan as Doug Brooke
Valerie Landsburg as Alice Brooke
Brenda Vaccaro as Mimi Harcourt
DVD Release
[
]
Murder, She Wrote: the Complete Fourth Season.
Episode Chronology
[
]
See Also
[
]
External Links
[
]