We're Getting Mutants in the MCU - The Loop
Play Sound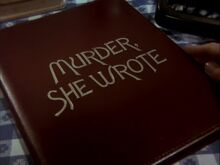 Murder, She Wrote: Season One
Murder, She Wrote: Season Two
Episodes:

"Joshua Peabody Died Here... Possibly"
Murder, She Wrote: Season Three
Murder, She Wrote: Season Four
Murder, She Wrote: Season Five
Murder, She Wrote: Season Six
Murder, She Wrote: Season Seven
Murder, She Wrote: Season Eight
Murder, She Wrote: Season Nine
Murder, She Wrote: Season Ten
Murder, She Wrote: Season Eleven
Murder, She Wrote: Season Twelve
Murder, She Wrote: TV Movies
The Law & Harry McGraw
Novels
Games
DVDs
Production Information
[
]
Production Number:
60305
Aired:
October 6, 1985
Written By:
Tom Sawyer
Directed By:
Peter Crane
INSERT EPISODE SCREENHOT HERE
Created By:
Peter S. Fischer, Richard Levinson & William Link
Executive Producers:
Peter S. Fischer
Producer
Robert F. O'Neill
Summary
[
]
Plans for a new hotel in Cabot Cove are interrupted when a skeleton is discovered in a grave on the construction site. Sheriff Tupper calls in Jessica for help, all the while having an adamant belief that the skeleton in the grave is the remains of famous Revolutionary war-hero Joshua Peabody. However, Dr. Hazlitt argues that the existence of Joshua Peabody is nothing but an old wives' tale. Despite her friends' bickering, Jessica decides to get to the bottom of things, but things get more complicated when a second body (the body of construction mogul, Henderson Wheatley, to be exact) turns up at the construction site, and this one is much more recent.
Trivia
[
]
This was William Windom's debut as the curmudgeonly Dr. Seth Hazlitt.
This also was the first of three appearances John Astin made as real estate broker Harry Pierce.
This also was the first time the name Joshua Peabody, Cabot Cove's Revolutionary War hero, was first mentioned.
Victim: Henderson Wheatley
Killer: Dell Scott
Cause of death: Gunshot.
Motive: Revenge for her brother's death, who died as a result of Wheatley's shoddy construction work.
Goofs
[
]
When FBI Agent Fred Keller first places David Marsh under arrest, he states that he has been after after him for 17 years. But then seconds later Agent Keller states that the crimes Marsh is wanted for occurred 14 years ago.
When Jessica & Amos had brought up Joey, a Cabot Cove resident who had a role of a minuteman in one of the town's mock battles & that it turned out that he was Daniel Martin, a wanted fugitive, there is no story to explain why he would come back to Cabot Cove & also with no story to explain how he died, why would the town not put him in a cemetery instead of where his remains were found to give this episode fruition ?
-Starring
[
]
Regular Cast
[
]
Angela Lansbury as Jessica Fletcher
Recurring Cast
[
]
John Astin as Harry Pierce
Tom Bosley as Sheriff Amos Tupper
William Windom as Dr. Seth Hazlitt
Guest Stars
[
]
Chuck Connors As F.B.I. Agent Fred Keller
John Ericson as Henderson Wheatley
Meg Foster as Dell Scott
Michael Sarrazin as David Marsh
David S. Sheiner as Lawyer: Arthur Griswold
Ken Swofford as Construction Foreman: Leo Kowalski
DVD Release
[
]
Episode Chronology
[
]
See Also
[
]
External Links
[
]