Jurassic World: Dominion Dominates Fandom Wikis - The Loop
Play Sound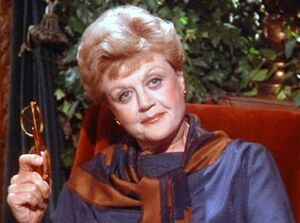 Jessica Fletcher
Nickname: Jess, Mrs. F, J.B.
Aliases: J.B Fletcher
Gender: Female
Current Status: Alive
Professional Information
Title: Representative,

U.S. House of Representatives


Occupation: Politician, Mystery Novelist, English Teacher, Amateur Detective
Specialty: Solving Mysteries

Personal Information
Spouse: Frank Fletcher
Relatives: See list
City of Residence:

New York


State of Residence:

New York


Country of Residence:

United States


Home Town: Cabot Cove, Maine
Nationality:

American
Episode Chronology
First Appearance: The Murder of Sherlock Holmes
Last Appearance: The Celtic Riddle
Episode Count: 264
TV Movie Count: 4
Played By
Actor: Angela Lansbury
Jessica Fletcher (born Jessica Beatrice MacGill known as J.B. Fletcher when writing) is a famous Murder-Mystery Novelist, who often found herself an unwilling participant in homicide investigations. Her detective skill eventually became well known to the point where she would be called in to consult on cases from the Cabot Cove Sheriff's Department, Scotland Yard, the FBI, and MI6.
Early Life
[
]
J.B Fletcher, maiden name MacGill, was not born and raised in Cabot Cove. Jessica studied at Harrison College in Green Falls, New Hampshire to become a journalist, and after completing her education Jessica worked as a high school English teacher for 17 years and as a substitute English teacher. She eventually met Frank Fletcher while interning at the Appleton Theatre. Frank was a Captain in the United States Air Force and they fell in love at first sight and married. Frank and Jessica had no children, however, they raised their young nephew Grady Fletcher after his parents were killed in a car accident. The two were married until Frank became very ill and passed away leaving Jessica widowed.
Career as a Mystery Novelist
[
]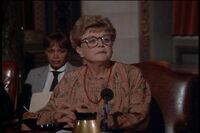 Following Frank's death, Jessica took to writing a manuscript entitled "The Corpse Danced At Midnight". Her nephew Grady discover this manuscript and showed it to his girlfriend Kit Donovan who subsequently saw that the publishing house for which she worked, Coventry House Publishing, had it published. Thus Jessica's career as a novelist had begun, however, her time with this publishing house would be short-lived. At the end of a homicide investigation in which Jessica took part, Preston Giles, the owner of the publishing house, was arrested for murder. Following this Jessica went on to publish several more novels with diffrent publishers. However during the course of promoting these books, or visiting friends and family she would frequently be drawn into the center of investigations, one of which even led to her filling in as Maine's Representative to the US House of Representatives.
Seven years after her first novel was published Jessica moved to New York where she took up teaching once again. Her classes tended to be a mix between Criminology and Creative Writing. Jessica still continued to release novels and travel back to her home town as well as other destinations, solving a great many murders along the way, establishing herself internationally as a renowned amateur sleuth.
Relationships
[
]
Jessica had a great number of friends and family the Most Notable Are:
Pictures
[
]
Published Novels
[
]
Please see Novels for the Real-World Novels Credited to Jessica Fletcher and Donald Bain.
Dirge for a Dead Dachshund

A Faded Rose Beside Her

Murder on the Amazon

Lover's Revenge

The Umbrella Murders

Murder at the Inn

Murder at the Digs

The Stain on the Stairs

The Mystery of the Mutilated Minion

The Belgrade Murders

Sanitarium of Death

Calvin Canterbury's Revenge

Murder at the Asylum

Murder Comes to Maine

Good-bye, Charlie

The Corpse That Wasn't There

Ashes, Ashes, Fall Down Dead

The Messengers of Midnight

The Poison in My Heart

All the Murderers

Murder at the Ridge Top

The Corpse at Vespers

The Triple Crown Murders

The Crypt of Death

A Killing at Hastings Rock

The Uncaught

The Killer Called Collect

Stone Cold Dead on Wall Street

Endangered

The Launch Pad Murders

Runway to Murder

A Case of a Half of Murder

Yours Truly, Damian Sinclair

The Dead Man Sang

The Corpse Swam by Moonlight

Mrs Parkers Revenge

Murder at Midnight
Appearances
[
]
Murder, She Wrote
[
]
TV Movies
[
]
See Also
[
]