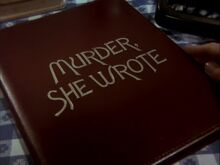 Murder, She Wrote: Season One
Murder, She Wrote: Season Two
Murder, She Wrote: Season Three
Murder, She Wrote: Season Four
Murder, She Wrote: Season Five
Episodes:

"J.B. As in Jailbird"
Murder, She Wrote: Season Six
Murder, She Wrote: Season Seven
Murder, She Wrote: Season Eight
Murder, She Wrote: Season Nine
Murder, She Wrote: Season Ten
Murder, She Wrote: Season Eleven
Murder, She Wrote: Season Twelve
Murder, She Wrote: TV Movies
The Law & Harry McGraw
Novels
Games
DVDs
Production Information
[
]
Production Number:
Aired: October 23rd, 1988
Written By: Robert E. Swanson
Directed By: Anthony (Pullen) Shaw
INSERT EPISODE SCREENSHOT HERE
Created By: Peter S. Fischer, Richard Levinson & William Link
Executive Producers: Peter S. Fischer
Producer: Robert E. Swanson
Summary
[
]
A chance encounter with her old friend Michael Hagarty leaves Jessica standing over a dead Bulgarian diplomat and accused of murder.
Trivia
[
]
The filming schedule allowed Angela Lansbury's scenes to be filmed at the end of the seven day schedule. For this show, the majority of Jessica Fletcher's scenes occurred in a jail setting filmed on the Universal studio lot stage. The writer specified the adjoining cells with just jail bars separating the two cells. Creative license always justified Jessica (Angela) visiting inside the jail's cell, never in a visiting room! Only on "Murder, She Wrote"
Hub Braden and Donald J. Remacle had white T-shirts printed on the left breast front pocket area with the phrase... "I Know Anthony Shaw Personally". Only the decorating crew wore the T-shirts on the last day of location filming in San Pedro.
Anthony Pullen Shaw, Angela Lansbury and Peter Shaw's son, was given the first show to direct after the company returned from the summer hiatus. Hub Braden, Production Designer, replaced Leslie Parsons who had left the series in August, 1988. Donald J. Remacle was brought on to the production team to decorate the first project for the 1988-1989 season. The regular decorator, Robert Wingo, prepared the second show which followed this show. Don Remacle returned occasionally to alternate with Rob Wingo during this season. Anthony Shaw had been previously given two directorial projects as part of his mother's contract deal. Anthony Shaw was given four shows to direct in this season of twenty two, hour long shows.
Victim: Ivanov Daki
Killer: Kevin Styles/the Cobra
Cause of death: Gunshot.
Motive: To keep Ivanov from being caught by MI6, as he was going to pay him half a million dollars (via a two headed stamp) to assassinate Leonard Matoso.
Starring
[
]
Regular Cast
[
]
Angela Lansbury as Jessica Fletcher
Recurring Cast
[
]
Len Cariou as MI6 Agent Michael Hagarty
Michael Horton as Grady Fletcher
Debbie Zipp as Donna Mayberry
Guest Stars
[
]
Maureen Arthur as Veronica Trevors
Sam Behrens as Kevin Styles
Michael Callan as Sgt. Nelson Nash
Maxwell Caulfield as Roger Travis
John Rhys Davies as Toby Lancaster
Leslie Easterbrook as Glenda Morrison
Ron O'Neal as Joe Santiago
Joseph Ruskin as Ivanov Daki
DVD Release
[
]
Murder, She Wrote: the Complete Fifth Season.
Episode Chronology
[
]
See Also
[
]
External Links
[
]