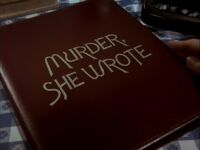 Murder, She Wrote: Season One
Murder, She Wrote: Season Two
Murder, She Wrote: Season Three
Murder, She Wrote: Season Four
Episodes:

"Indian Giver"
"Deadpan"
Murder, She Wrote: Season Five
Murder, She Wrote: Season Six
Murder, She Wrote: Season Seven
Murder, She Wrote: Season Eight
Murder, She Wrote: Season Nine
Murder, She Wrote: Season Ten
Murder, She Wrote: Season Eleven
Murder, She Wrote: Season Twelve
Murder, She Wrote: TV Movies
The Law & Harry McGraw
Novels
Games
DVDs
Production Information
Edit
Production Number:
Aired:
Written By:
Directed By:
INSERT EPISODE SCREENHOT HERE
Created By:
Executive Producers:
Producer
Regular Cast
Edit
Angela Lansbury as Jessica Fletcher
Recurring Cast
Edit
Tom Bosley as Sheriff Amos Tupper
William Windom as Dr. Seth Hazlitt
Richard Paul as Mayor Sam Booth
Guest Stars
Edit
Theodore Bikel as Professor Harold Crenshaw
Heidi Bohay as Donna Crenshaw
Lonny Chapman as Addison Langley
Jack Colvin as Harris Atwater
Gary Lockwood as Tom Carpenter
Jennifer Salt as Helen Langley
Charles Siebert as Norman Edmonds
Bernard White as George Longbow (as Bernie White)
Algonquin George Longbow disturbs a Mayor Sam Booth's speech in full warrior dress to deliver by spear his dead-earnest claim to the hereditary land-rights granted by the British to his ancestors' chief 12 generations ago in gratitude for fighting the French, a land strip including all Cabot Cove. While history professor Harold Crenshaw, George's girl-friend Donna's father, verifies the document's veracity, people panic and protest even if he turns out to be a Harvard law school graduate and only demands reasonable rent, the local businessman involved in an impending major development project is killed with an Algonquin spear, as everybody eagerly assumes by missing George, who is soon after found, roughed up and brought to Amos by local hot-head hoodlums. Jessica however believes in his intelligence-conform innocence and sets out to prove it...
DVD Release
Edit
Episode Chronology
Edit
External Links
Edit