We're Getting Mutants in the MCU - The Loop
Play Sound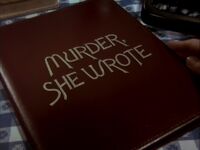 Murder, She Wrote: Season One
Murder, She Wrote: Season Two
Murder, She Wrote: Season Three
Murder, She Wrote: Season Four
Episodes:

"Indian Giver"
"Deadpan"
Murder, She Wrote: Season Five
Murder, She Wrote: Season Six
Murder, She Wrote: Season Seven
Murder, She Wrote: Season Eight
Murder, She Wrote: Season Nine
Murder, She Wrote: Season Ten
Murder, She Wrote: Season Eleven
Murder, She Wrote: Season Twelve
Murder, She Wrote: TV Movies
The Law & Harry McGraw
Novels
Games
DVDs
Production Information
[
]
Production Number:
Aired: November 29th, 1987
Written By: Gerald K. Siegel
Directed By: Walter Grauman
INSERT EPISODE SCREENSHOT HERE
Created By: Peter S. Fischer, William Levinson & Richard Link
Executive Producers: Peter S. Fischer
Producer: Robert F. O'Neill
Summary
[
]
Algonquin George Longbow disturbs a Mayor Sam Booth's speech in full warrior dress to deliver by spear his dead-earnest claim to the hereditary land-rights granted by the British to his ancestors' chief 12 generations ago in gratitude for fighting the French, a land strip including all Cabot Cove. While history professor Harold Crenshaw, George's girl-friend Donna's father, verifies the document's veracity, people panic and protest even if he turns out to be a Harvard law school graduate and only demands reasonable rent, the local businessman involved in an impending major development project is killed with an Algonquin spear, as everybody eagerly assumes by missing George, who is soon after found, roughed up and brought to Amos by local hot-head hoodlums. Jessica however believes in his intelligence-conform innocence and sets out to prove it...
Trivia
[
]
The title is an old English offensive expression to describe a person who gives a gift and then later wants it back.
Although the actor playing Mister Longbow is not an American Indian, he is an Indian-American, as Bernard White has Sri Lankan ancestry, Sri Lankan people have no ties to the Native Indian people, they may have ties to the people of India, but not to Native Indian people.
This is the second episode in which the late Lonny Chapman plays a murder victim; he was also the victim in Dead Heat.
Third episode in which the murder was in self-defense; the others are Footnote to Murder & If It's Thursday, It Must Be Beverly.
With no one knew where Longbow took up residence, how did Tom know where in order to frame Longbow for a murder he had no motive to commit ?
With Professor Crenshaw had deduced that Longbow's ancestry is fake & that he can't prove his lineage to Minetonka, the Indian chief, then explain what Longbow had found in order to make the copy of the land grant, I kind of doubt that he would risk having it to come out that his lineage couldn't be proven & yet bring up that he had no intent to fraud the people of the town, meaning with no intent to defraud the people of the town, then why have Crenshaw bring up that his ancestry to the indian chief is false ?
The Indian Chief Manitoka had to have a living descendant in order for the land grant to be genuine for Longbow to make a copy of, so how can Prof. Crenshaw prove that George isn't a descendant of Manitoka, George had to have gotten the genuine land grant to make a copy of, so the question is how did he get the genuine land grant to make a copy of if his lineage to Manitoka is false ?
Victim: Addison Langley
Killer: Helen Langley (aided by Tom Carpenter in the cover-up to frame George Longbow)
Cause of Death: Stabbed in the chest with a kitchen knife.
Motive: Self-defense, after he attacked her in a drunken rage following his argument with Longbow at the town hall meeting.
Starring
[
]
Regular Cast
[
]
Angela Lansbury as Jessica Fletcher
Recurring Cast
[
]
Tom Bosley as Sheriff Amos Tupper
William Windom as Dr. Seth Hazlitt
Richard Paul as Mayor Sam Booth
Guest Stars
[
]
Theodore Bikel as Professor Harold Crenshaw
Heidi Bohay as Donna Crenshaw
Lonny Chapman as Addison Langley
Jack Colvin as Harris Atwater
Gary Lockwood as Tom Carpenter
Jennifer Salt as Helen Langley
Charles Siebert as Norman Edmonds
Bernard White as George Longbow
DVD Release
[
]
Episode Chronology
[
]
See Also
[
]
External Links
[
]