Jurassic World: Dominion Dominates Fandom Wikis - The Loop
Play Sound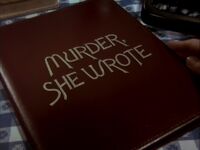 Murder, She Wrote: Season One
Murder, She Wrote: Season Two
Murder, She Wrote: Season Three
Murder, She Wrote: Season Four
Episodes:

"If It's Thursday, It Must Be Beverly"
"Deadpan"
Murder, She Wrote: Season Five
Murder, She Wrote: Season Six
Murder, She Wrote: Season Seven
Murder, She Wrote: Season Eight
Murder, She Wrote: Season Nine
Murder, She Wrote: Season Ten
Murder, She Wrote: Season Eleven
Murder, She Wrote: Season Twelve
Murder, She Wrote: TV Movies
The Law & Harry McGraw
Novels
Games
DVDs
Production Information
[
]
Production Number:
Aired: November 8th, 1987
Written By: Wendy Graf & Lisa Stotsky
Directed By: Peter Crane
INSERT EPISODE SCREENSHOT HERE
Created By: Peter S. Fischer, Richard Levinson & William Link
Executive Producers: Peter S. Fischer
Producer: Robert F. O'Neill
Summary
[
]
Cabot Cove's latest night deputy goes above and beyond his public duties serving the women of Cabot Cove and winds up needing Jessica's help when he becomes the prime suspect in his wife's murder.
Trivia
[
]
The title is an allusion to the film If It's Tuesday, This Must Be Belgium (1969). The film follows a group of travelers on a trip across seven European countries in 18 days.
Second episode where the murder was committed in self-defense; the first was Footnote to Murder.
First appearances of Eve Simpson, Phyllis Grant & Loretta Spiegel.
Victim: Audrey Martin
Killer: George Tibbits
Cause of death: Gunshot
Motive: Accidentally shot while struggling with a gun after George broke into the house to steal Audrey's winning lottery ticket.
Goofs
[
]
At the very end, there is a still picture of Jessica's house. It is clearly dark out and various room lights are on. A second later, Amos knocks on the back kitchen door. Jessica opens it and there is bright sunshine outside.
Jessica's back patio could have been enclosed & have lighting when Amos showed up at night, so the goof of it being bright sunshine at night when Amos knocked on it for when Seth was making Escargot is no goof, now was it ?
When Seth Hazlitt is examining Audrey Martin's body, he opens her left eye to look at her pupil. As he does this, her other eye opens.
When it came to the lottery tickets, Ideal Molloy mentioning her age being 30, Phyllis brings up she's 33, on Loretta's tack board, she has the ticket number 34 through 39. Not once did Eve or Audrey even mentioning being 31 & the other bringing up that she's 32, so how did Jessica deduce that Audrey had the ticket number 32 ?
Starring
[
]
Regular Cast
[
]
Angela Lansbury as Jessica Fletcher
Recurring Cast
[
]
Julie Adams as Eve Simpson (Debut Appearance)
Tom Bosley as Sheriff Amos Tupper
Gloria DeHaven as Phyllis Grant (Debut Appearance)
Kathryn Grayson as Ideal Molloy (Debut Appearance)
Ruth Roman as Loretta Spiegel (Debut Appearance)
William Windom as Dr. Seth Hazlitt
Guest Stars
[
]
Antoinette Bower as Audrey Martin
Ray Girardin as George Tibbits
Dody Goodman as Beverly Hills
Rick Lenz as Deputy Jonathan Martin
Co-Stars
[
]
Sally Klein as Coreen Wilson
DVD Release
[
]
Episode Chronology
[
]
See Also
[
]
External Links
[
]