We're Getting Mutants in the MCU - The Loop
Play Sound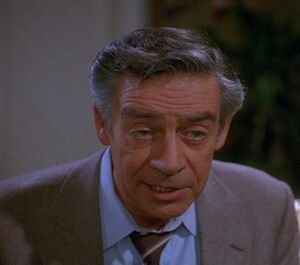 Harry McGraw
Gender: Male

Professional Information
Occupation: Private Investigator
Agency: Self Employed

Personal Information
Town of Residence: Boston, MA

Episode Chronology
First Appearance: Tough Guys Don't Die
Last Appearance: The Skinny According to Nick Cullhane
Episode Count: Six

Played By
Actor: Jerry Orbach
Harry McGraw is a hard-boiled private investigator based in Boston, Massachusetts. McGraw first meets Jessica Fletcher while investigating the murder of his partner Archie Miles. Though Harry is initially suspicious and combative in their first meeting (as Jessica was a client of Archie's, working a cold case) he soon warms to her and comes to respect her skills in investigation and deduction. Harry even goes so far as to suggest she stop "screwing around with all these stupid books and got to work," becoming his new partner. Jessica declines the offer, but they become close friends.
Personality
[
]
Harry is a very obstinate, arrogant, foolhardy, and private man. As a private investigator, he has found various ways to get what he is after. It shows his resourcefulness, but it reveals his willingness to bend the law to solve his cases as well. He has a tendency to rush into situations without always thinking first, and while this sometimes results in a solved case, it more often results in him getting a black eye or bloody lip. He's not stupid by any means, but his Ego gets him into a lot of trouble.
Harry has many vices such as gambling, chain smoking, and doing almost anything for a quick buck, but these don't really reflect his true character. It is hinted that Harry is truly nice under his gruff exterior. He is watchful of Jessica and makes certain she has been taken care of. He cares deeply about justice, to the point that he has to be reminded to not take it entirely into his own hands. What's more, he tries to stay true to his word when he makes a promise to anyone.
Murder, She Wrote: Season One
The Murder of Sherlock Holmes
Deadly Lady
Birds of a Feather
Hooray for Homicide
It's a Dog's Life
Lovers and Other Killers
Hit, Run and Homicide
We're Off to Kill the Wizard
Death Takes a Curtain Call
Death Casts a Spell
Capitol Offense
Broadway Malady
Murder to a Jazz Beat
My Johnny Lies Over the Ocean
Paint Me a Murder
Tough Guys Don't Die
Sudden Death
Footnote to Murder
Murder Takes the Bus
Armed Response
Murder at the Oasis
Funeral at Fifty-Mile
Murder, She Wrote: Season Two
Widow, Weep for Me
Joshua Peabody Died Here... Possibly
Murder in the Afternoon
School for Scandal
Sing a Song of Murder
Reflections of the Mind
A Lady in the Lake
Dead Heat
Jessica Behind Bars
Sticks and Stones
Murder Digs Deep
Murder by Appointment Only
Trial by Error
Keep the Home Fries Burning
Powder Keg
Murder in the Electric Cathedral
One Good Bid Deserves a Murder
If a Body Meet a Body
Christopher Bundy - Died On Sunday
Menace, Anyone?
The Perfect Foil
If the Frame Fits
Murder, She Wrote: Season Three
Death Stalks the Big Top (Part 1)
Death Stalks the Big Top (Part 2)
Unfinished Business
One White Rose for Death
Corned Beef & Carnage
Dead Man's Gold
Deadline for Murder
Magnum on Ice
Obituary for a Dead Anchor
Stage Struck
Night of the Headless Horseman
The Corpse Flew First Class
Crossed Up
Murder in a Minor Key
The Bottom Line Is Murder
Death Takes a Dive
Simon Says, Color Me Dead
No Laughing Murder
No Accounting for Murder
The Cemetery Vote
The Days Dwindle Down
Murder, She Spoke
Murder, She Wrote: Season Five
J.B. As in Jailbird
A Little Night Work
Mr. Penroy's Vacation
Snow White, Blood Red
Coal Miner's Slaughter
Wearing of the Green
The Last Flight of the Dixie Damsel
Prediction: Murder
Something Borrowed, Someone Blue
Weave A Tangled Web
The Search for Peter Kerry
Smooth Operators
Fire Burn, Cauldron Bubble
From Russia With Blood
Alma Murder
Truck Stop
The Sins of Castle Cove
Trevor Hudson's Legacy
Double Exposure
Three Strikes, You're Out
Mirror, Mirror on the Wall (Part 1)
Mirror, Mirror on the Wall (Part 2)
Murder, She Wrote: Season Seven
Trials & Tribulations
Deadly Misunderstanding
See You in Court, Baby
Hannigan's Wake
The Family Jewels
A Body to Die For
The Return of Preston Giles
The Great Twain Robbery
Ballad for a Blue Lady
Murder in F Sharp
Family Doctor
Suspicion of Murder
Moving Violation
Who Killed J.B. Fletcher?
The Taxman Cometh
From the Horse's Mouth
The Prodigal Father
Where Have You Gone, Billy Boy
Thursday's Child
Murder, Plain & Simple
Tainted Lady
The Skinny According to Nick Cullhane
See Also
[
]