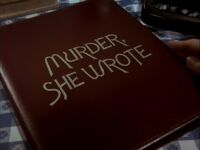 Murder, She Wrote: Season One
Murder, She Wrote: Season Two
Murder, She Wrote: Season Three
Murder, She Wrote: Season Four
Episodes:

"Harbinger of Death"
"Deadpan"
Murder, She Wrote: Season Five
Murder, She Wrote: Season Six
Murder, She Wrote: Season Seven
Murder, She Wrote: Season Eight
Murder, She Wrote: Season Nine
Murder, She Wrote: Season Ten
Murder, She Wrote: Season Eleven
Murder, She Wrote: Season Twelve
Murder, She Wrote: TV Movies
The Law & Harry McGraw
Novels
Games
DVDs
Production Information
Edit
Production Number:
Aired:
Written By:
Directed By:
INSERT EPISODE SCREENHOT HERE
Created By:
Executive Producers:
Producer
Regular Cast
Edit
Angela Lansbury as Jessica Fletcher
Recurring Cast
Edit
Guest Stars
Edit
Dean Jones as Leonard Palmer
Kate McNeil as Carrie Palmer
Marcia Rodd as Madeline DeHaven
Jeffrey Tambor as Russell Armstrong
Kirk Thornton as Forensic Man
George DiCenzo as Sgt. Kettler
Steven Ford as Drake Eaton
Robin Gammell as Dr. Thor Lundquist
Jessica visits her niece Carrie Palmer's husband Leonard Palmer, who actually forgot his own anniversary date, being an obsessively comets-devoted astronomy researcher at the Astro-Physics Institute where director Russell Armstrong and high-profile, high-maintenance careerist scientist Dr. Thor Lindquist who insists they attend the reception they hold to land a Defense contract Leonard disapproves of. That night Leonard is seen rushing out without signing out or closing up his computer-programmed telescope, which is manually pointed at a 30 mile-away vacation house owned by Armstrong, focused at the corpse of Drake Eaton. The house was lent to Leonard's daughter, Carrie Palmer, who admits she had an affair with Drake. Jessica agrees to ghostwrite a book for investigating police sergeant Kettler to get access to all the data, while Leonard is fired to avoid image damage. Conflicting statements from Leonard and Carrie make them the obvious suspects, yet Jessica suddenly concentrates on the programming of the telescope.
DVD Release
Edit
Episode Chronology
Edit
External Links
Edit