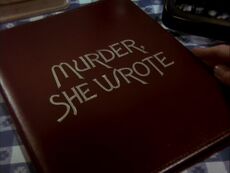 Murder, She Wrote: Season One
Murder, She Wrote: Season Two
Murder, She Wrote: Season Three
Murder, She Wrote: Season Four
Murder, She Wrote: Season Five
Murder, She Wrote: Season Six
Murder, She Wrote: Season Seven
Episodes:

"Hannigan's Wake"
Murder, She Wrote: Season Eight
Murder, She Wrote: Season Nine
Murder, She Wrote: Season Ten
Murder, She Wrote: Season Eleven
Murder, She Wrote: Season Twelve
Murder, She Wrote: TV Movies
The Law & Harry McGraw
Novels
Games
DVDs
Production Information
[
]
Production Number:
Aired: October 28th, 1990
Written By: Peter S. Fischer
Directed By: Vincent McEveety
INSERT EPISODE SCREENSHOT HERE
Created By: Peter S. Fischer

and Richard Levinson

& William Link

Executive Producers: Peter S. Fischer
Producers: Anthony Magro

Robert F. O'Neill

Robert E. Swanson

Robert Van Scoyk
Summary
[
]
Jessica learns that her old friend, Daniel Hannigan is dying and comes to visit him. He asks her to continue to work on his book about the death of a wealthy woman whose husband, he believes, was wrongly accused of the crime and her investigation puts her at odds with those who would prefer the case, closed.
Trivia
[
]
Second episode in which Jessica investigates an older murder without a newer one also taking place; the first was The Days Dwindle Down.
First episode featuring an old murder in which the murderer themselves is also dead.
Third episode where the murder was an accident; the others are The Days Dwindle Down & Test of Wills.
Van Johnson previously appeared on the show in Menace, Anyone?
Victim: Lydia Grant Thurlow
Killer: Edward "Eddie" Bradley Folkes Jr/"J.R." (with his father, Commissioner Folkes covering it up and pinning it on her husband).
Cause of death: Blood loss/trauma from being knocked into a glass cabinet.
Motive: Accident, knocked into cabinet during fight when he tried to hit her up for money owed to him by her drug addicted brother, Eric Grant.
The last thing that Jessica needs is to deal with the death of Folkes' wife, the mother of J.R., with Jessica knowing that it was an accidental death, why would she allow herself to put it out there for the boy's mother to know he accidentally killed a woman. Jessica was willing to allow J.R.'s mother to learn the truth of her son instead of allowing her to remember the son she knew, not the one she doesn't just so an innocent man will know that it wasn't him, now would she ?
Starring
[
]
Regular Cast
[
]
Angela Lansbury as Jessica Fletcher
Guest Stars
[
]
Bradford Dillman as Commissioner Folkes
Anthony Geary as Eric Grant
Cynthia Harris as Phyllis Thurlow
Van Johnson as Daniel Hannigan
Mala Powers as Dorothy Folkes
Raphael Sbarge as Stephen Thurlow
Guy Stockwell as Bert Kravitz
Stephen Young as Mr. Domant
Efrem Zimbalist, Jr. as Richard Thompson Grant
Co-Stars
[
]
Emory Bass as Jonathan Barish
LaReine Chabut as Madeline (Dorann-Collins)
Johnny Creer as Victor Impelliteri
Kate Randolph Burns as Madge (Percival)
Issac Turner as Eddie Folkes
DVD Release
[
]
Episode Chronology
[
]
See Also
[
]
External Links
[
]