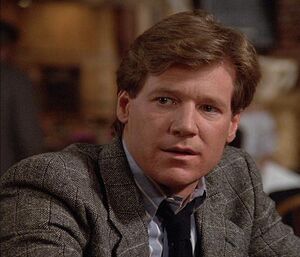 Grady Fletcher
Gender: Male
Current Status: Alive
Professional Information
Occupation: Accountant

Personal Information
Episode Chronology
First Appearance: The Murder of Sherlock Holmes
Last Appearance: The Dream Team

Played By
Actor: Michael Horton
Grady Ambrose Fletcher, Jessica Fletcher's nephew, is a recurring character on "Murder, She Wrote". Specifically, Grady was the son of Frank Fletcher's late brother.
It was Grady who, after secretly reading Jessica's first novel The Corpse Danced at Midnight, had it published.
Although Jessica seems to have a never-ending collection of nieces and nephews, it is Grady that could be easily considered the closest thing she has to a son. In the series viewers learn that Grady was raised in part by Jessica and her husband Frank, after Grady's parents were killed in a car accident.
Bumbling, but good-natured, Grady seemed to always be moving from accounting job to accounting job. When he did have a job, murder would quickly follow. Usually a too-trusting Grady was accused of the murder and needed his Aunt Jessica to find the real killer.
His job troubles were as bad as his difficulties with women. Grady, the shy innocent type, frequently had trouble finding a regular girl. He did eventually marry equally shy Donna Mayberry. Ironically his job troubles and women troubles converge when he finds out she worked for, and was fired by, Donna's father.
Grady and Donna had a son in the series, whom they name Frank, after Grady's uncle.
Murder, She Wrote: Season One
The Murder of Sherlock Holmes
Deadly Lady
Birds of a Feather
Hooray for Homicide
It's a Dog's Life
Lovers and Other Killers
Hit, Run and Homicide
We're Off to Kill the Wizard
Death Takes a Curtain Call
Death Casts a Spell
Capitol Offense
Broadway Malady
Murder to a Jazz Beat
My Johnny Lies Over the Ocean
Paint Me a Murder
Tough Guys Don't Die
Sudden Death
Footnote to Murder
Murder Takes the Bus
Armed Response
Murder at the Oasis
Funeral at Fifty-Mile
Murder, She Wrote: Season Two
Widow, Weep for Me
Joshua Peabody Died Here... Possibly
Murder in the Afternoon
School for Scandal
Sing a Song of Murder
Reflections of the Mind
A Lady in the Lake
Dead Heat
Jessica Behind Bars
Sticks and Stones
Murder Digs Deep
Murder by Appointment Only
Trial by Error
Keep the Home Fries Burning
Powder Keg
Murder in the Electric Cathedral
One Good Bid Deserves a Murder
If a Body Meet a Body
Christopher Bundy - Died On Sunday
Menace, Anyone?
The Perfect Foil
If the Frame Fits
Murder, She Wrote: Season Three
Death Stalks the Big Top (Part 1)
Death Stalks the Big Top (Part 2)
Unfinished Business
One White Rose for Death
Corned Beef & Carnage
Dead Man's Gold
Deadline for Murder
Magnum on Ice
Obituary for a Dead Anchor
Stage Struck
Night of the Headless Horseman
The Corpse Flew First Class
Crossed Up
Murder in a Minor Key
The Bottom Line Is Murder
Death Takes a Dive
Simon Says, Color Me Dead
No Laughing Murder
No Accounting for Murder
The Cemetery Vote
The Days Dwindle Down
Murder, She Spoke
Murder, She Wrote: Season Four
A Fashionable Way to Die
When Thieves Fall Out
Witness for the Defense
Old Habits Die Hard
The Way to Dusty Death
It Runs in the Family
If It's Thursday, It Must Be Beverly
Steal Me a Story
Trouble in Eden
Indian Giver
Doom With a View
Who Threw the Barbitals in Mrs. Fletcher's Chowder?
Harbinger of Death
Curse of the Daanav
Mourning Among the Wisterias
Murder Through the Looking Glass
A Very Good Year for Murder
Benedict Arnold Slipped Here
Just Another Fish Story
Showdown in Saskatchewan
Deadpan
The Body Politic
Murder, She Wrote: Season Five
J.B. As in Jailbird
A Little Night Work
Mr. Penroy's Vacation
Snow White, Blood Red
Coal Miner's Slaughter
Wearing of the Green
The Last Flight of the Dixie Damsel
Prediction: Murder
Something Borrowed, Someone Blue
Weave A Tangled Web
The Search for Peter Kerry
Smooth Operators
Fire Burn, Cauldron Bubble
From Russia With Blood
Alma Murder
Truck Stop
The Sins of Castle Cove
Trevor Hudson's Legacy
Double Exposure
Three Strikes, You're Out
Mirror, Mirror on the Wall (Part 1)
Mirror, Mirror on the Wall (Part 2)
Murder, She Wrote: Season Six
Appointment in Athens
Seal of the Confessional
The Grand Old Lady
The Error of Her Ways
Jack & Bill
Dead Letter
Night of the Tarantula
When the Fat Lady Sings
Test of Wills
Class Act
Town Father
Goodbye Charlie
If the Shoe Fits
How to Make a Killing Without Really Trying
The Fixer-Upper
The Big Show of 1965
Murder - According to Maggie
O'Malley's Luck
Always a Thief
Shear Madness
The Szechuan Dragon
The Sicilian Encounter
Murder, She Wrote: Season Eleven
A Nest of Vipers
Amsterdam Kill
To Kill a Legend
Death in Hawaii
Dear Deadly
The Murder Channel
Fatal Paradise
Crimson Harvest
Murder by Twos
Murder of the Month Club
An Egg to Die For
The Scent of Murder
Death 'n Denial
Murder in High-C
Twice Dead
Film Flam
Murder a la Mode
The Dream Team
School for Murder
Another Killing in Cork
Game, Set, Murder
Community content is available under
CC-BY-SA
unless otherwise noted.