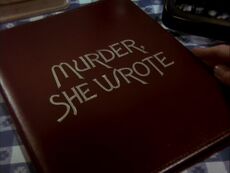 Murder, She Wrote: Season One
Murder, She Wrote: Season Two
Murder, She Wrote: Season Three
Murder, She Wrote: Season Four
Murder, She Wrote: Season Five
Murder, She Wrote: Season Six
Murder, She Wrote: Season Seven
Episodes:

"From the Horse's Mouth"
Murder, She Wrote: Season Eight
Murder, She Wrote: Season Nine
Murder, She Wrote: Season Ten
Murder, She Wrote: Season Eleven
Murder, She Wrote: Season Twelve
Murder, She Wrote: TV Movies
The Law & Harry McGraw
Novels
Games
DVDs
Production Information
[
]
Production Number:
Aired: February 24th, 1991
Written By: Gerry Day
Directed By: Jerry Jameson
INSERT EPISODE SCREENSHOT HERE
Created By: Peter S. Fischer

and Richard Levinson

& William Link

Executive Producers: Peter S. Fischer
Producers: Anthony Magro

Robert F. O'Neill

Robert E. Swanson

Robert Van Scoyk
Summary
[
]
Jessica travels to Kentucky to visit the horse breeding ranch of her friends, Diana & Tod Sterling. Their neighbor, Lamar Morgan, is disputing the offspring caused by Diana's father, Randolph's stud horse, King Paragon. When Randolph himself ends up dead in the horse's pen, Jessica recruits her old friend Harry McGraw to help solve the case.
Trivia
[
]
Second episode to deal with horse related business; the first was Dead Heat, although that was about horse racing, not breeding.
Victim: Randolph Sterling
Killer: Derek Padley
Cause of death: Beaten repeatedly with cane.
Motive: He learned that King Paragon was not the real horse, but his brother, whom Derek had disguised as the real one.
Starring
[
]
Regular Cast
[
]
Angela Lansbury as Jessica Fletcher
Recurring Cast
[
]
Jerry Orbach as Detective Harry McGraw
Guest Stars
[
]
Melvin M. Belli as Judge Charley Harley
Maxwell Caulfield as Derek Padley
Patricia Charbonneau as Diana Sterling
Robert Donner as Sheriff Tyrone McKenna
Nanette Fabray as Emmaline Bristow
Kevin McCarthy as Randolph Sterling
Tricia O'Neil as Althea Mayberry
John Allen Nelson as Tod Sterling
Debra Sandland as Dr. Christie Morgan
Gregory Walcott as Lamar Morgan
Co-Stars
[
]
Helena Carroll as Martha Jane Stokes
James Bartz as Justin King
Michael Ayr as Attorney Mark Mason
Patricia Huston as Edie
Kathy Hartsell as Young Woman
Richard Balin as Coroner
DVD Release
[
]
Episode Chronology
[
]
See Also
[
]
External Links
[
]