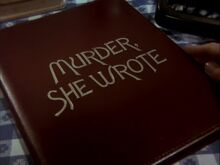 Murder, She Wrote: Season One
Murder, She Wrote: Season Two
Murder, She Wrote: Season Three
Murder, She Wrote: Season Four
Murder, She Wrote: Season Five
Episodes:

Murder, She Wrote: Season Six
Murder, She Wrote: Season Seven
Murder, She Wrote: Season Eight
Murder, She Wrote: Season Nine
Murder, She Wrote: Season Ten
Murder, She Wrote: Season Eleven
Murder, She Wrote: Season Twelve
Murder, She Wrote: TV Movies
The Law & Harry McGraw
Novels
Games
DVDs
Production Number:
Aired: February 26th, 1989
Written By: Donald Ross
Directed By: Vincent McEveety
INSERT EPISODE SCREENSHOT HERE
Created By: Peter S. Fischer, Richard Levinson & William Link
Executive Producers: Peter S. Fischer
Producer: Robert E. Swanson
Jessica is detained in Moscow when a spy attempts to smuggle a film out of the Soviet Union in her handbag.
The title is a parody of the James Bond film From Russia...With Love.
Victim: Dukhov
Killer: Guards, on orders from Cultural Minister Melnikov.
Cause of death: Gunshots
Motive: To prevent release of microfilm implicating various Russian higher-ups, as well as his father as a Nazi collaborator.
When Mrs Fletcher leaves the American Embassy (22 mins) and the maroon colored taxi pulls up. The camera crew's reflection is clearly visible in the passenger window.
Angela Lansbury as Jessica Fletcher
Jack Bannon as Inspector Bernicker
Peter Donat as Sergei Chaloff
Anthony Geary as K.G.B. Lieutenant Fyodor Alexandrov
Jeremy Kemp as Minister Melnikoff
David McCallum as Cyril Grantham
Judy Parfitt as Peggy Brooks
Adrian Zmed as Bert Firman
Miros Kirek as Dukhov
Community content is available under
CC-BY-SA
unless otherwise noted.