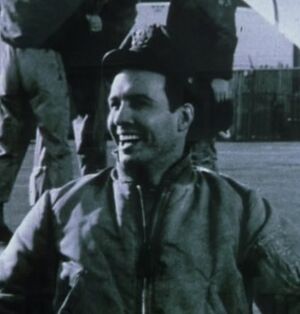 Frank Fletcher
Gender: Male
Current Status: Deceased
Professional Information
Occupation: Air Force Captain, Real Estate
Rank: Captain

Personal Information
Spouse: Jessica Fletcher
Relatives: Neil Fletcher (brother)


Constance Fletcher (sister-in-law)
Marshall MacGill (brother-in-law)
Martin MacGill (brother-in-law)
Grady Fletcher (nephew)
Donna Mayberry (niece)
Frank Fletcher (great-nephew)

Home Town: Cabot Cove, Maine

Episode Chronology
First Appearance: The Last Flight of the Dixie Damsel (in a photograph)

Played By
Actor: John Newberg
Frank Fletcher was Jessica Fletcher's deceased husband. In 1952, he was captain of his Air Force unit. He and Jessica used to spend time with members of his unit. In The Last Flight of the Dixie Damsel, it's revealed that his unit jumped out of the Dixie Damsel, but Serg. Gagliano was killed. Thirty-five years later, he's accused of murder. Towards the end of the series, his nephew, Grady Fletcher , had a son named after him.
Community content is available under
CC-BY-SA
unless otherwise noted.