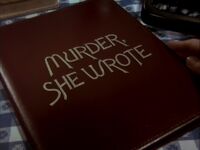 Murder, She Wrote: Season One
Murder, She Wrote: Season Two
Murder, She Wrote: Season Three
Murder, She Wrote: Season Four
Murder, She Wrote: Season Five
Murder, She Wrote: Season Six
Murder, She Wrote: Season Seven
Murder, She Wrote: Season Eight
Murder, She Wrote: Season Nine
Murder, She Wrote: Season Ten
Episodes:

"For Whom the Bell Tolls"
"Roadkill"
Murder, She Wrote: Season Eleven
Murder, She Wrote: Season Twelve
Murder, She Wrote: TV Movies
The Law & Harry McGraw
Novels
Games
DVDs
Production Information
[
]
Production Number:
Aired:
Written By:
Directed By:
INSERT EPISODE SCREENHOT HERE
Created By:
Executive Producers:
Producer
Summary
[
]
When Jessica agrees to help preserve a historic brownstone, she winds up trying to clear her editor of the murder of an opposing developer.
Trivia
[
]
The title is based on the 1940 novel 'For Whom the Bell Tolls' by Ernest Hemingway about a group of anti-fascist guerrillas during the Spanish Civil War.
Prior to this episode, Jeff Conaway appeared twice as Jessica's nephew-in-law in 1984 and 1986. He appeared again in 1994 as an entirely different character.
Victim: Walter Gillrich
Killer: Lee Gillrich
Cause of Death: Gunshot
Motive: Confronted Walter over his cruel treatment of her husband (and his brother), Eugene Gillrich, and when he ignored her, she killed him in a fit of anger.
When Margaret had gotten the call, the hustle & bustle & the noise of the bar, Lee has the knowledge as to who called Margaret, is quite questionable, now isn't it, given that she had no clue as to who was calling Margaret, now does she ?
Starring
[
]
Regular Cast
[
]
Angela Lansbury as Jessica Fletcher
Recurring Cast
[
]
Guest Stars
[
]
Ray Abruzzo as Mike LaRocca
Barbara Babcock as Carol Collins
Jeff Conaway as Nolan Walsh
Herb Edelman as NYPD Lieutenant Artie Gelber (as Herbert Edelman)
Hallie Foote as Margaret Johnson
Lela Ivey as Nurse Josie Miles
Kevin Kilner as Eugene Gillrich
Robert Pine as Walter Gillrich
Susan Walters as Lee Gillrich
Leonard Lightfoot as Detective Henderson
Alex Courtney as Vic Barton
John Dennis as Pete
Wendy Hoffman as Walter's Secretary
Jodi Russell as Peggy
Alexander Folk as Mailman
Lisa Dinkins as Female Reporter
Episode Chronology
[
]
See Also
[
]
External Links
[
]