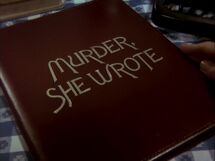 Murder, She Wrote: Season One
Murder, She Wrote: Season Two
Murder, She Wrote: Season Three
Murder, She Wrote: Season Four
Murder, She Wrote: Season Five
Murder, She Wrote: Season Six
Murder, She Wrote: Season Seven
Murder, She Wrote: Season Eight
Murder, She Wrote: Season Nine
Episodes:

Murder, She Wrote: Season Ten
Murder, She Wrote: Season Eleven
Murder, She Wrote: Season Twelve
Murder, She Wrote: TV Movies
The Law & Harry McGraw
Novels
Games
DVDs
Production Number:
Aired:
Written By:
Directed By:
INSERT EPISODE SCREENHOT HERE
Created By:
Executive Producers:
Producer
One of Jessica's former students is murdered when he returns to Cabot Cove to write a book exposing new information on a 30-year-old town scandal.
When Jessica bumps into Randy in the library she is wearing a teapot pin, could it be Mrs Potts.
The girl indicates she is the sole heir of the murderess in the thirty year old case. But earlier she had specified she was adopted, and the adoption process is supposed to sever all legal ties to a child's birth family, so she could never inherit the mother's estate legally.
Funny that Jessica could rattle off the full names of all four protagonists of an (albeit local but) 30-years-old murder case (the victim's, his fiancee's AND their two cousins'). Her conversation the night before with a budding writer now dredging up the story had barely touched on any specifics.
Beth Taylor Hart as Margaret "Mad Maggie" Babbington
Jeff Bankert as Owen Cooper
Paul W. Carr as Buisnessman
Richard Brestoff as William Bailey
Blair Sorby as Young George Latimer
Michele Bernath as Woman Customer
Community content is available under
CC-BY-SA
unless otherwise noted.