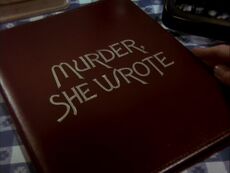 Murder, She Wrote: Season One
Murder, She Wrote: Season Two
Murder, She Wrote: Season Three
Murder, She Wrote: Season Four
Murder, She Wrote: Season Five
Murder, She Wrote: Season Six
Murder, She Wrote: Season Seven
Episodes:

"Family Doctor"
Murder, She Wrote: Season Eight
Murder, She Wrote: Season Nine
Murder, She Wrote: Season Ten
Murder, She Wrote: Season Eleven
Murder, She Wrote: Season Twelve
Murder, She Wrote: TV Movies
The Law & Harry McGraw
Novels
Games
DVDs
Production Information
[
]
Production Number:
Aired: January 6th, 1991
Written By: Robert Van Scoyk
Directed By: Walter Grauman
INSERT EPISODE SCREENSHOT HERE
Created By: Peter S. Fischer

and Richard Levinson

& William Link

Executive Producers: Peter S. Fischer
Producers: Anthony Magro

Robert F. O'Neill

Robert E. Swanson

Robert Van Scoyk
Summary
[
]
A quiet dinner out for Seth and Jessica ends abruptly when he is forced to care for injured Mafia kingpin Carmine Abruzzi. When the latter dies, his son holds Seth responsible and has he and Jessica kidnapped, although the Cabot Cove sleuth ultimately demonstrates it was Carmine's wife the real culprit.
Trivia
[
]
This was the first appearance in season 7 for William Windom (Dr Seth Hazlitt). Despite several episodes taking place in Cabot Cove, and Seth generally being Jessica Fletcher's primary Cabot Cove companion, he had not appeared until the halfway point of the season. The reason for Windom's absence was due to his work on the production of the NBC drama Parenthood (1990), where he played grandfather Frank Buckman.
Not the only time the last name Abruzzi used in the series. Season 9, episode 1, Caesar Romero guest stars as Marcello Abruzzi.
Linda Larkin, who has a bit role as a waitress, would later be known as the voice of Princess Jasmine in Disney's Aladdin and it's spin-offs.
William Utay, who plays one of the FBI agents at the beginning, was best known for his recurring role as eccentric bum Phil Sanders on Night Court (1984).
Victim(s): Carmine Abruzzi & Joey Carr
Killer: Rosa Abruzzi
Cause of death: Heart attack due to injection of Digitoxin; gunshot.
Motive: Didn't want to move to Italy and miss her family growing up; angry that he botched the hit on Carmine.
Goofs
[
]
When Lt Marino plays the tape recording of Seth's account of his kidnap for the FBI agents, the wording in the recording is not the same as what Seth is heard saying to Lt Marino earlier.
Starring
[
]
Regular Cast
[
]
Angela Lansbury as Jessica Fletcher
Recurring Cast
[
]
William Windom as Dr. Seth Hazlitt
Guest Stars
[
]
Tige Andrews as Carmine Abruzzi
Cynthia Bain as Denise Abruzzi
David Ciminello as Salvatore Abruzzi
Joseph Cortese as Lt. Jerry Marino
Robert Costanzo as Freddie
Diane Franklin as Phyllis Gant
Rose Gregorio as Rosa Abruzzi
Vincent Irizarry as Michael Abruzzi
Monte Markham as Andrew Gant
Amy Yasbeck as Connie Canzinaro
Co-Stars
[
]
William Utay as Agent Misch
Newell Alexander as Agent Zweiback
Howard George as Desk Sergeant
Linda Larkin as Waitress
Randall James Jeffries as Bellhop
Michael Blue as Policeman #1
Jay Hill as Policeman #2
DVD Release
[
]
Episode Chronology
[
]
See Also
[
]
External Links
[
]