We're Getting Mutants in the MCU - The Loop
Play Sound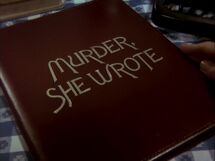 Murder, She Wrote: Season One
Murder, She Wrote: Season Two
Murder, She Wrote: Season Three
Murder, She Wrote: Season Four
Murder, She Wrote: Season Five
Murder, She Wrote: Season Six
Murder, She Wrote: Season Seven
Murder, She Wrote: Season Eight
Murder, She Wrote: Season Nine
Episodes:

"The Mole"
"Double Jeopardy"
"Dead Eye"
Murder, She Wrote: Season Ten
Murder, She Wrote: Season Eleven
Murder, She Wrote: Season Twelve
Murder, She Wrote: TV Movies
The Law & Harry McGraw
Novels
Games
DVDs
Production Information
[
]
Production Number:
Aired:
Written By:
Directed By:
INSERT EPISODE SCREENHOT HERE
Created By:
Executive Producers:
Producer
Summary
[
]
A not-guilty verdict in the murder of a community activist leads to threats of violence.
Trivia
[
]
When Father Michael is joking with Jessica about using a priest as the main character of one of her novels, he mentions the character of Father Dowling, created by Ralph McInerny. Of course, former cast member Tom Bosley went on to star in the series based on that character.
Victim(s): Roberto Galvan (happened 11 months prior) and Frank Fernandez
Killer: Raymond Fernandez
Cause of Death: Gunshot to the head; sprayed in the face with poison.
Motive: To hide his drug dealing; he urged him to confess to Galvan's murder.
Goofs
[
]
The plot has Fr. Michael running for the vacant council seat, but Church law prohibits a Priest from seeking or holding elected office as it is in direct conflict with his service to the church.
It has been pointed out that Fr. Michael would not be permitted by Church Canon Law to hold political office and at the time this episode aired, that is true, however, it is interesting to note that this was due to Pope John Paul II issuing an update to Canon Law in 1983 (10 years earlier) which eliminated a "loop-hole" from the 1917 version which permitted it if permission was granted by both their own Bishop and the Bishop of the territory where the election would be held. Since no dates are given in the episode, it could be argued that the episode was set prior to the change in Canon Law.
Raymond Fernandez, the one who had killed Frank Fernandez, had confessed to Jessica & the cop that he had used his father's weapon, the only people that knows about that were Jessica, Raymond & the cop, therefore, with only two hearing Raymond's confession can be constituted as hearsay & the cocaine that was found could have easily have been planted by any rival families.
Yes, I can see motive for Frank to kill his father, because the father knew what Raymond had done to Congressman Galvan, but Raymond wouldn't kill his father to keep him from testifying, because of the conflict of interest, given the father/son relationship would deem Frank's testimony hearsay because only father & son knew of it, now wouldn't it?
Then, there's this: They had found Raymond's prints all over the Toxic Handbook, but Denise's prints weren't, explain. Also, with Denise's prints on the book, would have smudged Raymond's prints, so wouldn't it be tossed out of court over partial prints?
Starring
[
]
Regular Cast
[
]
Angela Lansbury as Jessica Fletcher
Guest Stars
[
]
Robert Beltran - Father Michael
Ismael Carlo - Frank Fernandez
Julius Carry - Sgt. Bill Davis
Raymond Cruz - Jose Galvan
Rosanna DeSoto - Maria Galvan
Dan Ferro - Raymond Fernandez
Judith Jones - Ruth Nelson
Mark Adair Rios - Tony Galvan
Co-Stars
[
]
Valerie Dillman as Denise Dillman
Sonia Jackson as Librarian
Juan A. Riojas as Manuel Sanchez
Larry Carroll as Telecaster
Keri Johnson as Teen Boy
Episode Chronology
[
]
See Also
[
]
External Links
[
]