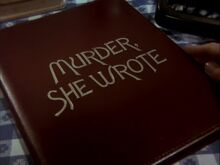 Murder, She Wrote: Season One
Murder, She Wrote: Season Two
Murder, She Wrote: Season Three
Murder, She Wrote: Season Four
Murder, She Wrote: Season Five
Episodes:

Murder, She Wrote: Season Six
Murder, She Wrote: Season Seven
Murder, She Wrote: Season Eight
Murder, She Wrote: Season Nine
Murder, She Wrote: Season Ten
Murder, She Wrote: Season Eleven
Murder, She Wrote: Season Twelve
Murder, She Wrote: TV Movies
The Law & Harry McGraw
Novels
Games
DVDs
Production Number:
Aired: April 30th, 1989
Written By: Robert E. Swanson
Directed By: Anthony (Pullen) Shaw
INSERT EPISODE SCREENSHOT HERE
Created By: Peter S. Fischer, Richard Levinson & William Link
Executive Producers: Peter S. Fischer
Producer: Robert E. Swanson
Jessica encounters a man who she believes is her neighbor from years back, but when the man denies it, Jessica recruits Harry McGraw to dig to the bottom of the mystery.
Victim: John Winslow (a.k.a. John Wilson)
Killer: Lt. Roy Quinlan
Cause of death: Gunshot
Motive: Hired by Nathan Swarthmore via Danforth Data to kill John as he had testified against their company regarding fraud.
When Jessica Fletcher first called Maude Winslow, she mentioned that she hoped she wasn't interrupting her dinner, since Chicago was two hours behind. Jessica was in Boston at the time (Eastern time), which is only an hour ahead of Chicago (Central time). To be two hours ahead of Chicago, Jessica would have to be 1000 miles into the Atlantic Ocean.
When Cookie the bartender shows Jessica the newspaper about Harry, the headline has the word Homicide misspelled as "homocide".
Angela Lansbury as Jessica Fletcher
Jerry Orbach as Detective Harry McGraw
Christina Belford as Maude Winslow
Earl Boen as Sgt. Howard Sternhagen
John Cypher as Nathan Swarthmore
Robert Hogan as Phil Guilfoyle
William Lucking as Lt. Roy Quinlan
Karen Morrow as Gladys
Andrew Stevens as Dr. Adam Paulson
Robert Alan Browne as Frank Coyle
John Furlong as John Winslow
Marty Davis as Cookie
E. Danny Murphy as Sloane
Jack Jozefson as Taxi Driver
Louise Fitch as Nosy Neighbor
Melanie Noble as Receptionist
Louis Herthum as Wilbur
Wendy Hoffman as Hotel Clerk
Joshua Peeveyhouse as Tommy
Justin Darby as Ralphie
Barry O'Neill as Boy #4
Scotty Williams as Boy #3
Community content is available under
CC-BY-SA
unless otherwise noted.