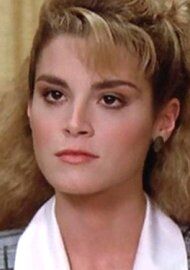 Doris Robinson
Gender: Female
Current Status: Alive, Incarcerated
Professional Information
Personal Information
Relatives: Elliot Robinson (father)

Episode Chronology
First Appearance: Menace, Anyone?

Played By
Actor: Betsy Russell
Doris Robinson is Elliot Robinson's daughter who had a crush on Brain East, and hated Carol McDermott for stealing him away. She planted a bomb in Carol's car in order to kill her and steal back Brian, but it was Brian who ended up getting killed, unknown to Doris. She later killed Tad Travis, the police lieutenant investigating the bombing, fearing he was getting too close to the truth. Carol's aunt, Jessica Fletcher, eventually found Doris out and went to confront her with Carol. Doris was shocked to see Carol alive, and when Jessica told her who was really in the car, Doris broke down crying over her deceased crush.