We're Getting Mutants in the MCU - The Loop
Play Sound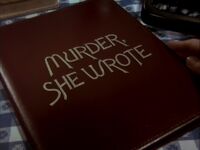 Murder, She Wrote: Season One
Murder, She Wrote: Season Two
Murder, She Wrote: Season Three
Murder, She Wrote: Season Four
Murder, She Wrote: Season Five
Murder, She Wrote: Season Six
Murder, She Wrote: Season Seven
Murder, She Wrote: Season Eight
Murder, She Wrote: Season Nine
Murder, She Wrote: Season Ten
Murder, She Wrote: Season Eleven
Episodes:

"Death in Hawaii"
Murder, She Wrote: Season Twelve
Murder, She Wrote: TV Movies
The Law & Harry McGraw
Novels
Games
DVDs
Production Information
[
]
Production Number:
Aired:
Written By:
Directed By:
INSERT EPISODE SCREENHOT HERE
Created By:
Executive Producers:
Producer
Starring
[
]
Regular Cast
[
]
Recurring Cast
[
]
Guest Stars
[
]
Summary
[
]
Jessica's involvement in a political campaign in Hawaii leads to embezzlement and murder.
Victim: Ben Kanaka
Killer: Liz Dougherty
Cause of Death: Gunshot
Motive: Walked in on her as she was trying to retrieve the disc with the information that incriminated her in Brett Reynolds's pyramid scheme.
It was brought up that Boone, one of the people involved with the campaign planted a bug in Danny's office, the only time it was ever brought up was when Jessica had brought it up, but, there was no story as to who had planted it. Given as to when Jessica had brought up who had done it. You show the story of who put the bug in place before bringing up who had done it, don't you think?
Then this, Danny's boss has a daughter & yet when it's shown that he kisses her, Jessica brought up that he didn't kiss her the way that lovers do. If I had a daughter, & I show affection to her, I would never kiss her the way it was depicted in this episode, now would I, given that she's my daughter.
Episode Chronology
[
]
See Also
[
]
External Links
[
]