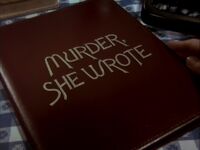 Murder, She Wrote: Season One
Murder, She Wrote: Season Two
Murder, She Wrote: Season Three
Murder, She Wrote: Season Four
Murder, She Wrote: Season Five
Murder, She Wrote: Season Six
Murder, She Wrote: Season Seven
Murder, She Wrote: Season Eight
Murder, She Wrote: Season Nine
Murder, She Wrote: Season Ten
Murder, She Wrote: Season Eleven
Episodes:

"Dear Deadly"
Murder, She Wrote: Season Twelve
Murder, She Wrote: TV Movies
The Law & Harry McGraw
Novels
Games
DVDs
Production Information
[
]
Production Number:
Aired:
Written By:
Directed By:
INSERT EPISODE SCREENHOT HERE
Created By:
Executive Producers:
Producer
Starring
[
]
Regular Cast
[
]
Recurring Cast
[
]
Guest Stars
[
]
Summary
[
]
Jessica struggles to clear a young man of killing one of her friends, a famous author.
Victim: Loretta Lee
Killer: Alexis Hill
Cause of Death: Bludgeoned with a water pitcher.
Cause of Death: Loretta threatened to expose that Alexis had plagiarized her works from a dying homeless man, whom Loretta was good friends with.
Episode Chronology
[
]
See Also
[
]
External Links
[
]