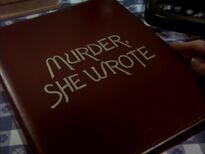 Murder, She Wrote: Season One
Murder, She Wrote: Season Two
Murder, She Wrote: Season Three
Murder, She Wrote: Season Four
Murder, She Wrote: Season Five
Murder, She Wrote: Season Six
Murder, She Wrote: Season Seven
Murder, She Wrote: Season Eight
Murder, She Wrote: Season Nine
Murder, She Wrote: Season Ten
Murder, She Wrote: Season Eleven
Murder, She Wrote: Season Twelve
Episodes:

"Nailed"
"Deadly Bidding"
Murder, She Wrote: TV Movies
The Law & Harry McGraw
Novels
Games
DVDs
Production Information
[
]
Production Number:
Aired:
Written By:
Directed By:
INSERT EPISODE SCREENHOT HERE
Created By:
Executive Producers:
Producer
Summary
[
]
Charlie Garrett's outrageous bid at an auction arouses Jessica's suspicions after the artist becomes the subject of a homicide.
Trivia
[
]
At the end of the story, Mrs. Fletcher declared the Doyle journal a fake, because the journal talked about watching the immigrants at Ellis Island in 1927. This was due to the false statement that Ellis Island closed in 1924. Ellis Island was open until 1954. It peaked in 1924 before the government altered the immigration law to cut down on Southern European Catholics and Eastern European and Russian Jews entering the United States.
They never played up the story for the auction house owner to investigate the painting, not until they shown in flashback, when the painter of Arrangement in Grey & Red was in the storage room, so that's questionable. The only people who had access to the code number was a struggling photographer & the painter of the artwork in question, so that's questionable as to how the auction house owner had used the code, now isn't it? any one could have worn that garb to be the killer & to show up to kill the artist. They never proved who wore what to do the killing, now was there?, because they solely focused on the verbiage of TIME STOOD STILL, to prove that the auction house owner was the one who did it. The question that I have is why didn't they prove he was at the artist's loft instead of the verbiage of time standing still?
Starring
[
]
Regular Cast
[
]
Angela Lansbury as Jessica Fletcher
Recurring Cast
[
]
Wayne Rogers as Charlie Garrett
Guest Stars
[
]
Tyrees Allen as Sgt. Unger
Kathleen Garrett as Mrs. Serena Rundle
Doug Hutchison as Angus Neville
Aharon Ipalé as Lawrence Mezznou
Martin Jarvis as Giles Havelock
Renée Jones as Reggie Evers
Paul Lieber as Milt Solomon
Craig Richard Nelson as Felix Wesker
Melanie Smith as Diana Barrow
Jeff Williams as Pete Dunning
Edd Byrnes as Kenneth Rundle
Episode Chronology
[
]
See Also
[
]
External Links
[
]