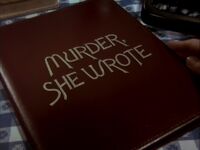 Murder, She Wrote: Season One
Murder, She Wrote: Season Two
Murder, She Wrote: Season Three
Murder, She Wrote: Season Four
Murder, She Wrote: Season Five
Murder, She Wrote: Season Six
Murder, She Wrote: Season Seven
Murder, She Wrote: Season Eight
Murder, She Wrote: Season Nine
Murder, She Wrote: Season Ten
Episodes:

"Deadly Assets"
"Roadkill"
Murder, She Wrote: Season Eleven
Murder, She Wrote: Season Twelve
Murder, She Wrote: TV Movies
The Law & Harry McGraw
Novels
Games
DVDs
Production Information
[
]
Production Number:
Aired:
Written By:
Directed By:
INSERT EPISODE SCREENHOT HERE
Created By:
Executive Producers:
Producer
Summary
[
]
Back in Cabot Cove to orchestrate a surprise birthday dinner for Seth, Jessica is drawn into what looks like a small-time theft by Charlie Garrett and an apparent Mob connection.
Trivia
[
]
When the result of the horse race is being reported on the radio, the horses Swift Prince and Victor Way are mentioned. Both horses were part of Murder, She Wrote: Bloodlines (1993).
Victim: Oscar Gandile
Killer: Harvey Terhune
Cause of Death: Bludgeoned with a statuette
Motive: Panicked after Gandile walked in on him while he was trying to steal some petty cash to pay his sister Libby's student loans and Gandile mistakenly thought he had discovered his smuggling operation.
Goofs
[
]
About halfway through, Walter Perry passes as sign announcing the "Future Sight" rather than "Site" of the Cabot Cove Historical Museum. A prescient repository of the past ?
The accident was in fact Seth's fault. Think, once Charlie had seen Seth's car back-up, he would have honked his horn before the impact occurred, so when the impact had happened, if it was Charlie was to blame, why didn't Seth honk ?
Starring
[
]
Regular Cast
[
]
Angela Lansbury as Jessica Fletcher
Recurring Cast
[
]
Ron Masak as Sheriff Mort Metzger
William Windom as Dr. Seth Hazlitt
Louis Herthum as Deputy Andy Broom
Wayne Rogers as Charlie Garrett
Guest Stars
[
]
R.D. Call as Joseph Kempinsky
Frederick Coffin as Sanford Lomax
Rebecca Cross as Libby Terhune
Anthony Mangano as Oscar James Gandile
Matt Mulhern as Walter Perry
Eamonn Roche as Harvey Terhune
Millie Slavin as Celia Terhune
Episode Chronology
[
]
See Also
[
]
External Links
[
]