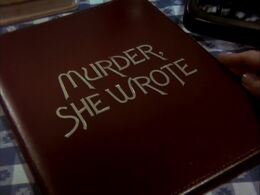 Murder, She Wrote: Season One
Murder, She Wrote: Season Two
Murder, She Wrote: Season Three
Murder, She Wrote: Season Four
Murder, She Wrote: Season Five
Murder, She Wrote: Season Six
Episodes:

"Dead Letter"
Murder, She Wrote: Season Seven
Murder, She Wrote: Season Eight
Murder, She Wrote: Season Nine
Murder, She Wrote: Season Ten
Murder, She Wrote: Season Eleven
Murder, She Wrote: Season Twelve
Murder, She Wrote: TV Movies
The Law & Harry McGraw
Novels
Games
DVDs
Production Information
[
]
Production Number:
Aired: November 5th, 1989
Written By: Paul Schiffer
Directed By: Anthony (Pullen) Shaw
INSERT EPISODE SCREENSHOT HERE
Created By: Peter S. Fischer, Richard Levinson & William Link
Executive Producers: Peter S. Fischer
Producers: Robert E. Swanson & Robert Van Scoyk
Summary
[
]
Jessica's acquisition of an old bureau at a rummage sale unleashes a chain of events that leads to the death of a local volunteer fireman in a furniture store.
Trivia
[
]
The title refers to a term used by the United States' Postal Service for a letter that cannot be delivered due to the illegibility or absence of a forwarding or return address.
Guest star Max Gail is best known as Stanley "Wojo" Wojochewitz on Barney Miller.
Bud Fricksey played by Jonathan Goldsmith who was "the most interesting man in the world" from Dos Equis commercials.
Victim: Bud Fricksey
Killer: Stanley Holmes
Cause of death: Smoke inhalation after being knocked out with a varnish can in a fire
Motive: Was surprised by Bud as he was burning down the furniture store he worked at to cover his embezzlement.
Goofs
[
]
Why would Stanley fear his photograph of his lady friend burning up in the fire that he had set ? Remember, at the time he was setting the fire, he said he saw it staring at him from his knapsack, indicating that it would survive the fire when Jessica showing it off when it was on his mantel when the denouement of the episode was when Stanley was exposed as the arsonist.
Starring
[
]
Regular Cast
[
]
Angela Lansbury as Jessica Fletcher
Recurring Cast
[
]
Ron Masak as Sheriff Morton Metzger
Richard Paul as Mayor Samuel Booth
William Windom as Dr. Seth Hazlitt
Guest Stars
[
]
Susan Anspach as Lois Fricksey
Rosemary DeCamp as Agnes Diller
Peter Fox as Ron Stiller
George Furth as Fred Owens
Max Gail as Stanley Holmes
Jonathan Goldsmith as Bud Fricksey
Robin Riker-Hasley as Connie Kowalski
Al Waxman as Carl Wilson
DVD Release
[
]
Murder, She Wrote; the Complete Sixth Season
Episode Chronology
[
]