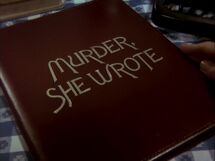 Murder, She Wrote: Season One
Murder, She Wrote: Season Two
Murder, She Wrote: Season Three
Murder, She Wrote: Season Four
Murder, She Wrote: Season Five
Murder, She Wrote: Season Six
Murder, She Wrote: Season Seven
Murder, She Wrote: Season Eight
Murder, She Wrote: Season Nine
Episodes:

"The Mole"
"Dead Eye"
Murder, She Wrote: Season Ten
Murder, She Wrote: Season Eleven
Murder, She Wrote: Season Twelve
Murder, She Wrote: TV Movies
The Law & Harry McGraw
Novels
Games
DVDs
Production Information
[
]
Production Number:
Aired:
Written By:
Directed By:
INSERT EPISODE SCREENHOT HERE
Created By:
Executive Producers:
Producer
Summary
[
]
Murder, missing persons, and the Kennedy assassination are all part of the mysteries Jessica must face to solve both an old murder and a new one.
Victim: Frank Hemet
Killer: Laura Ann Callan
Cause of Death: Gunshot
Motive: To retrieve some of his papers that implicated her father in the Kennedy scandal.
Goofs
[
]
As everyone was looking for some negatives of photographs taken in 1963, Private Investigator Charlie Garrett (Wayne Rogers) stated that he received them back then bearing a postmark of November 25, 1963. That was the day of John F Kennedy's funeral in which then President Johnson proclaimed across the country, schools, businesses, and government offices closed in observance of the day of mourning. This included the post office which could not have produced a cancellation for that date
The next goof is that there is no story whatsoever that the characters in this episode existed on that date, meaning, paying Oswald off to kill & to add more shots in order to play up the author of the book he was peddling knowing the wrong number of shots that Jessica had brought up.
With the rumored connections to the mob that the Kennedy family had to get rid of Marilyn Monroe, why would the Kennedy family pose a threat to the mob in order for them to pay Oswald to kill Kennedy ?
This episode is unique in that justice is not served: The mobsters who had Oswald kill Kennedy are clearly middlemen for someone else, and they are themselves killed before they can say who that person or persons is. The Kennedy assasination remains unsolved. However, it has been proven that Oswald did not act alone, so perhaps the public scandal could lead to a new official investigation in which the masterminds behind the JFK assasination are finally brought to justice. So justice is not neccasarily off the table.
Who puts on their tail-lights to indicate that they were stopping. tail-lights show who is turning left or right, not who's about to stop.
Then, there's this: The main story of the episode is the Kennedy Killing, not the Hemet killing, so why focus on Hemet's killing instead of the main story involving the Kennedy Killing ?
Why implicate Laura Callan's father in anything, given that he's already dead, so why should it matter what he tried to profit off of what?
Crazy Credits
[
]
Opening scenes plot setting: CORAL CITY, FLORIDA, NOVEMBER 24, 1963 - MIAMI, FLORIDA PRESENT DAY
Starring
[
]
Regular Cast
[
]
Angela Lansbury as Jessica Fletcher
Recurring Cast
[
]
Wayne Rogers as Charlie Garrett (Debut Appearance)
Guest Stars
[
]
Lonny Chapman as Frank Hemet
Julian Christopher as FBI Agent James Whitman
Ben Masters as Chief Gillis
Stewart Moss as Dr. Desmond Abner Farrow
Linda Purl as Laura Ann Callan
Al Ruscio as Santo Angelini
Co-Stars
[
]
John Petlock as Michael
Webster Williams as Hal Frederick
Kevin Quigley as Bernie Callan
Tom Alan Robbins as Assistant Manager
Jason Stuart as Motel Manager
Dennis Paladino as Bartender
Martin Goslins as Houseman
Episode Chronology
[
]
See Also
[
]
External Links
[
]