Jurassic World: Dominion Dominates Fandom Wikis - The Loop
Play Sound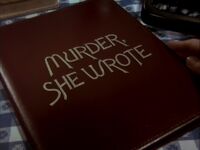 Murder, She Wrote: Season One
Murder, She Wrote: Season Two
Murder, She Wrote: Season Three
Murder, She Wrote: Season Four
Episodes:

"Curse of the Daanav"
"Deadpan"
Murder, She Wrote: Season Five
Murder, She Wrote: Season Six
Murder, She Wrote: Season Seven
Murder, She Wrote: Season Eight
Murder, She Wrote: Season Nine
Murder, She Wrote: Season Ten
Murder, She Wrote: Season Eleven
Murder, She Wrote: Season Twelve
Murder, She Wrote: TV Movies
The Law & Harry McGraw
Novels
Games
DVDs
Production Information
[
]
Production Number:
Aired: February 7th, 1988
Written By: Chris Manheim
Directed By: Walter Grauman
INSERT EPISODE SCREENSHOT HERE
Created By: Peter S. Fischer, Richard Levinson & William Link
Executive Producers: Peter S. Fischer
Producer: Robert F. O'Neill
Summary
[
]
Vikram Singh has a nightmare (memory?) about an expedition's discovery on the Indian continent and the lethal curse of the Daanav, a legendary divine ruby. After meeting their Congressman in Washington D.C., Jessica convinces Seth to accept an invitation to a polo-match in nearby Maryland hosted by his wealthy, estranged brother Richard Hazlitt. Seth grudgingly accepts provided she joins him. Richard's new wife, considered a threat by his son Mark Hazlitt and daughter, actually sent the invitation, but it works, the brothers finally make up in a trip to memory lane with whiskey and cigars at the estate. However the ruby Richard bought for his wife, seems to work its spell to kill anyone not of pure heart who wears it: she nearly suffocates in the garage. Next, Richard takes the ruby to his room, and is killed while the door is locked from the inside. Jessica works out how both crimes connect with the ruby and refuses to believe Singh, now government agent to purchase it, is guilty, even after the ruby is found on him, as her trap proves.
Trivia
[
]
Although it is said here that Seth Hazlitt's brother Richard, his nephew Mark and his niece Carolyn are his only relatives, he is later shown to have several cousins who live on a plantation down south in Dixie.
Much, less having a niece who lost her fiancee in the episode What You Don't Know Can Kill You, that was the episode, where a young mother's father killed a boy he thought sired his grandchild & three local thugs had harassed.
Victim: Richard Hazlitt
Killer: Bert Davies
Cause of death: Unknown, most likely poison.
Motive: Felt Richard viewed his wife (and Bert's daughter) Alice as only a trophy to show off and didn't appreciate her.
Starring
[
]
Regular Cast
[
]
Angela Lansbury as Jessica Fletcher
Recurring Cast
[
]
William Windom as Dr. Seth Hazlitt
Guest Stars
[
]
Jane Badler as Carolyn Hazlitt
Douglas Barr as Mark Hazlitt
Clive Revill as Bert Davies
Richard Bradford as Richard Hazlitt
Jane Windsor as Alice Davies Hazlitt
Kabir Bedi as Vikram Singh
Larry Linville as Lt. Steven Ames
DVD Release
[
]
Episode Chronology
[
]
See Also
[
]
External Links
[
]