We're Getting Mutants in the MCU - The Loop
Play Sound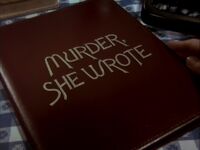 Murder, She Wrote: Season One
Murder, She Wrote: Season Two
Murder, She Wrote: Season Three
Episodes:

"Crossed Up"
Murder, She Wrote: Season Four
Murder, She Wrote: Season Five
Murder, She Wrote: Season Six
Murder, She Wrote: Season Seven
Murder, She Wrote: Season Eight
Murder, She Wrote: Season Nine
Murder, She Wrote: Season Ten
Murder, She Wrote: Season Eleven
Murder, She Wrote: Season Twelve
Murder, She Wrote: TV Movies
The Law & Harry McGraw
Novels
Games
DVDs
Production Information
[
]
Production Number:
Aired: February 1st, 1987
Written By: Steven Long Mitchell & Craig W. Van Sickle
Directed By: David Hemmings
INSERT EPISODE SCREENSHOT HERE
Created By: Peter S. Fischer, Richard Levinson & William Link
Executive Producers: Peter S. Fischer
Producer: Robert F. O'Neill
Summary
[
]
The phone wires get crossed up during a big hurricane, and Jessica can't prove to anybody that the plot for a murder that she accidentally overheard is real or not.
Trivia
[
]
The plot is a reference to Sorry, Wrong Number (1948). About a bedridden woman who accidentally over hears on the phone a murder being plotted.
For Henry Brandon, who plays the victim, Abel Gorcey, this was the last TV part in his nearly half a century long career.
Jessica does not leave her bed for the entire episode.
The lightning bolt shown during the storm is the same one shown during the opening credits of Gilligan's Island, but flipped.
David Hemmings, who directed this episode, appeared in the previous episode The Corpse Flew First Class, as "Scotland Yard" inspector Errol Pogson.
Victim(s): Abel Gorcey & Jed Rogers
Killer: Dody Rogers
Cause of death: Presumably pushed off of stairs; gunshot.
Motive: To keep him from blackmailing her about being hired to murder Jed; to prevent him from changing his will which would cut out Gordon Rogers, and by extension, herself.
Goofs
[
]
During a rainstorm, Jessica is speaking on the telephone to Letitia, the town operator. She is wearing her glasses in a close-up. Mid-sentence, it cuts to a long shot, and her glasses are suddenly on her lap.
When Jessica was listening to the murder plot on the phone at the time the windows blew inward, & the telescope fell, the wind would never blow in, rustling Jessica's papers, because nothing from inside would cause the vacuum to suck the wind in & also because of the fact, that with the force of the wind that knocked the telescope over, it would have broken the telescope & it didn't , did it  ?
Starring
[
]
Regular Cast
[
]
Angela Lansbury as Jessica Fletcher
Recurring Cast
[
]
Tom Bosley as Sheriff Amos Tupper
Michael Horton as Grady Fletcher
William Windom as Dr. Seth Hazlitt
Guest Stars
[
]
Colleen Camp as Dody Rogers
Tony Dow as Gordon Rogers
Stephanie Dunnam as Leslie Cameron
James Carroll Jordan as Adam Rogers
Gisele MacKenzie as Mona
Sandy McPeak as Morgan Rogers
Henry Brandon as Abel Gorcey
DVD Release
[
]
Episode Chronology
[
]
See Also
[
]
External Links
[
]