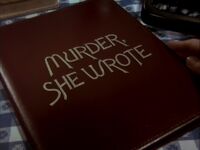 Murder, She Wrote: Season One
Murder, She Wrote: Season Two
Murder, She Wrote: Season Three
Episodes:

Murder, She Wrote: Season Four
Murder, She Wrote: Season Five
Murder, She Wrote: Season Six
Murder, She Wrote: Season Seven
Murder, She Wrote: Season Eight
Murder, She Wrote: Season Nine
Murder, She Wrote: Season Ten
Murder, She Wrote: Season Eleven
Murder, She Wrote: Season Twelve
Murder, She Wrote: TV Movies
The Law & Harry McGraw
Novels
Games
DVDs
Production Number:
Aired: November 2nd, 1986
Written By: Robert E. Swanson
Directed By: John Llewellyn Moxey
INSERT EPISODE SCREENSHOT HERE
Created By: Peter S. Fischer, Richard Levinson & William Link
Executive Producers: Peter S. Fischer
Producer: Robert F. O'Neill
Jessica gets involved when her niece Victoria is believed to be connected to the murder of her lecherous boss.
The title refers to the traditional Irish meal of corned beef and cabbage which is consumed on St. Patrick's Day that is more common in America than in the Irish homeland.
Jessica previously visited her niece Victoria and her husband Howard in Birds of a Feather from season one.
Angela Lansbury & David Ogden Stiers also worked together (along with Jerry Orbach, who plays Harry McGraw) in Beauty and the Beast (1991)
Victim: Larry Kinkaid
Killer: Aubrey Thornton
Cause of death: Blunt force trauma to the head caused by an award.
Motive: Kinkaid was going to force him out of the business.
The bill for Kincaid's sandwich was $5.50, but Kincaid tossed a $5 bill on the desk to pay for it.
Angela Lansbury as Jessica Fletcher
Jeff Conaway as Howard Griffin
Genie Francis as Victoria Griffin
Susan Anton as Christine Clifford
Warren Berlinger as Jim Ingram
Peter Haskell as Leland Biddle
Richard Kline as Larry Kinkaid
Bill Macy as Myron Kinkaide
James Sloyan as Lt. Jacob Spoletti
David Ogden Stiers as Aubrey Thornton
Ken Swofford as Grover Barth
Marcia Wallace as Polly Barth
Community content is available under
CC-BY-SA
unless otherwise noted.