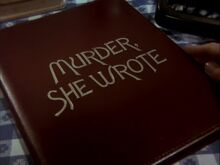 Murder, She Wrote: Season One
Murder, She Wrote: Season Two
Murder, She Wrote: Season Three
Murder, She Wrote: Season Four
Murder, She Wrote: Season Five
Episodes:

Murder, She Wrote: Season Six
Murder, She Wrote: Season Seven
Murder, She Wrote: Season Eight
Murder, She Wrote: Season Nine
Murder, She Wrote: Season Ten
Murder, She Wrote: Season Eleven
Murder, She Wrote: Season Twelve
Murder, She Wrote: TV Movies
The Law & Harry McGraw
Novels
Games
DVDs
Production Number:
Aired: November 20th, 1988
Written By: Chris Manheim
Directed By: Walter Grauman
INSERT EPISODE SCREENSHOT HERE
Created By: Peter S. Fischer, Richard Levinson & William Link
Executive Producers: Peter S. Fischer
Producer: Robert Van Scoyk
The owner of a coal mine is confronted by the daughter of a worker whom she holds responsible for his death, but when the sleazy coal mine owner is murdered and the woman is the prime suspect, Jessica arrives to help clear her name.
Megan Mullally was 30-years-old at this time.
The title pertains to country singing legend Loretta Lynn, the Coal Miner's Daughter, who had a hit song, an autobiography and a movie (which won Sissy Spacek an Oscar for Best Actress) named after it.
Victim(s): Tyler Morgan, Joe Stevens & Danny Harmon (the latter 2 took place 10 years earlier)
Killer: Carlton Reid
Cause of death: Gunshot; explosion.
Motive: Morgan threatened to reveal their illegal financial dealings if he didn't deal with Molly Stevens's harassment of him; Joe refused to go along with his illegal dealings and Danny was in the wrong place at the wrong time.
Angela Lansbury as Jessica Fletcher
Hoyt Axton as Sheriff Jasper Tate
Barbara Bain as Nora Morgan
Chuck Connors as Tyler Morgan
Cliff DeYoung as Carlton Reid
Marilyn Jones as Bridie Harmon
William R. Moses as Reese Morgan
Megan Mullally as Molly Stevens
Denver Pyle as Eben Connors
Jared Rushton as Travis Harmon
Community content is available under
CC-BY-SA
unless otherwise noted.