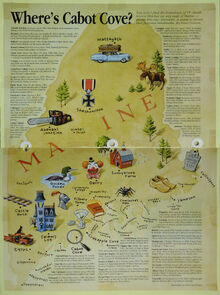 Cabot Cove, is a rural village located in the State of Maine, on the eastern seaboard of the United States. Its most notable resident is Murder-Mystery novelist Jessica Fletcher.
The Maine town of Cabot Cove is based on the very popular, lovely Maine town of Perkins Cove. Mendocino, in Nothern California, was where the filming took place.
Mendocino, in Northern California, was the real location used for episodes based in Cabot Cove, other than the Universal Lot.