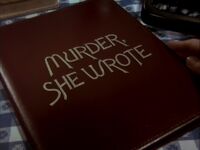 Murder, She Wrote: Season One
Murder, She Wrote: Season Two
Murder, She Wrote: Season Three
Murder, She Wrote: Season Four
Murder, She Wrote: Season Five
Murder, She Wrote: Season Six
Murder, She Wrote: Season Seven
Murder, She Wrote: Season Eight
Murder, She Wrote: Season Nine
Murder, She Wrote: Season Ten
Episodes:

"Bloodlines"
"Roadkill"
Murder, She Wrote: Season Eleven
Murder, She Wrote: Season Twelve
Murder, She Wrote: TV Movies
The Law & Harry McGraw
Novels
Games
DVDs
Production Information
[
]
Production Number:
Aired:
Written By:
Directed By:
INSERT EPISODE SCREENHOT HERE
Created By:
Executive Producers:
Producer
Summary
[
]
A racehorse trainer is murdered as he is on his way to expose a racing fraud.
Victim: Matt Cleveland
Killer: Tracy Noble
Cause of Death: Bludgeoned with a flashlight.
Motive: Didn't want Matt to cause the track to be shut down by exposing fraud, which would ruin her only chance to obtain the money she and her mother needed to save their farm.
Trivia
[
]
Angela Lansbury and Mickey Rooney appeared in the horse racing themed film, National Velvet (1944).
Angela Lansbury hired Don Mischer for his first attempt at directing a network dramatic film hour series scenario program. Don Mischer had only directed video taped variety and award program specials. Murder, She Wrote: Bloodlines (1993) was his only Murder, She Wrote (1984) directing credit.
Mickey Rooney's character "Matt Cleveland" is murdered and the body is discovered in an adjacent trench on the horse-racing stable main entrance road. The night scenes were extensively filmed on a Southern California Hidden Hills race-horse stable and exterior grounds exterior location sight. Although a stand-in double scheduled to lay in the ditch-trench stood by, Mickey Rooney (born: 23 Sept 1920, age 73) insisted on performing, on camera, dead or alive! For every angle and shot of Matt Cleveland, during the Friday night's freezing six hour filming stint, Mickey would strike the same prone pose in the trench while the actors performed their road side trench scenes for the director and camera crew.
There was no need for Lansbury's Jessica to bring up there was a witness at the shoulder, when they could have easily proven that Tracy used the flashlight to kill, her prints would trace the weapon at hand to her, now wouldn't it ?
Starring
[
]
Regular Cast
[
]
Angela Lansbury as Jessica Fletcher
Recurring Cast
[
]
Guest Stars
[
]
Ami Dolenz as Tracey Noble
Blake Gibbons as Sheriff Clyde Benson
Tippi Hedren as Catherine Noble
Stephen Macht as Lloyd Mentone
Don Murray as Wally Hampton
Sean O'Bryan as Paul Hampton
Mickey Rooney as Matt Cleveland
Shawnee Smith as Jill Cleveland
Don Swayze as Gus Tardio
Scott N. Stevens as Deputy Vernon Kelly (as Scott Stevens)
Frank Farmer as Dr. Garney
David Powledge as Delivery Driver (as Dave Powledge)
Anne Lower as Pretty Girl at Restaurant (uncredited)
Craig Shoemaker as Scott (uncredited)
Episode Chronology
[
]
See Also
[
]
External Links
[
]