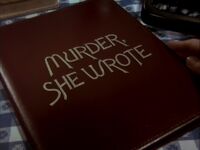 Murder, She Wrote: Season One
Murder, She Wrote: Season Two
Murder, She Wrote: Season Three
Murder, She Wrote: Season Four
Episodes:

"Benedict Arnold Slipped Here"
"Deadpan"
Murder, She Wrote: Season Five
Murder, She Wrote: Season Six
Murder, She Wrote: Season Seven
Murder, She Wrote: Season Eight
Murder, She Wrote: Season Nine
Murder, She Wrote: Season Ten
Murder, She Wrote: Season Eleven
Murder, She Wrote: Season Twelve
Murder, She Wrote: TV Movies
The Law & Harry McGraw
Novels
Games
DVDs
Production Information
[
]
Production Number:
Aired: March 13th, 1988
Teleplay By: Robert Van Skoyk

Story By: Wendy Graf & Lisa Stotsky

Directed By: Seymour Robbie
INSERT EPISODE SCREENSHOT HERE
Created By: Peter S. Fischer, Richard Levinson & William Link
Executive Producers: Peter S. Fischer
Producer: Robert Van Skoyk
Summary
[
]
The death of an eccentric shut-in brings the burden of executing her will to Jessica. Several individuals are interested in the house, including an Englishman who believes it has a letter that exonerates famed traitor Benedict Arnold and local pawn shop owner Benny Tibbles. When Benny is later found murdered, a supposed "treasure" hidden in the house appears to be the motive, but it may turn out to be something else entirely.
Trivia
[
]
Starting with this episode, Robert F. O'Neill is now billed as "supervising producer."
This is the third episode where the victim was murdered with a fireplace poker; it was also used in Trial by Error & Witness for the Defense.
Final appearance of Cabot Cove sheriff Amos Tupper, as Tom Bosley left the show to star on Father Dowling Mysteries.
For some reason, the end credits list the actors from the opening credits and the roles they play, which has never been done in any previous episodes.
Victim: Benny Tibbles
Killer: Alistair Andrews
Cause of death: Blunt force trauma from fireplace poker.
Motive: Benny caught him looking for the note supposedly exonerating Benedict Arnold and was going to call the police on him.
Goofs
[
]
Jessica still can't prove that Alistair was in the house that late at night to murder Benny, with the way old British homes & castles have their electricity & light switches in the oddest of places & Eve Simpson could have told him about the newspaper photo of Tillie & the sampler, which could have him cracked the code & show up & take out of what was behind the third brick of the chimney & left before Benny had gotten there, remember, there was no story to explain Benny being in Tillie's home that late at night, now was there?
Starring
[
]
Angela Lansbury as Jessica Fletcher
Recurring Cast
[
]
Julie Adams as Eve Simpson
Tom Bosley as Sheriff Amos Tupper (Final Appearance)
William Windom as Dr. Seth Hazlitt
Guest Stars
[
]
Brian Bedford as Alistair Andrews
Barbara Carson as Emily Goshin
David Clennon as Wilton Tibbles
Shea Farrell as Kevin Tibbles
Lois Foraker as Liza Adams
Katherine Moffat as Lauren Hastings
Dick O'Neill as Benny Tibbles
DVD Release
[
]