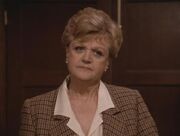 Angela Brigid Lansbury, CBE (born 16 October 1925) is a veteran British actress and singer in theatre, television and films.
Career
[
]
Angela's career has spanned eight decades and earned an unsurpassed number of performance Tony Awards (tied with Julie Harris and Audra McDonald), with five wins. Her first film appearance was in the film Gaslight (1944) as a conniving maid, for which she received an Academy Award nomination at the age of eighteen; she earned her second nomination the following year for The Picture of Dorian Gray. Among her other films are The Manchurian Candidate (1962) where she appeared opposite Frank Sinatra, Bedknobs and Broomsticks (1971), Beauty and the Beast (1991), and Anastasia (1997). She also voiced sister Theresa in the Rankin/Bass stop-motion special Story of the First Christmas Snow (1975).
Angela expanded her repertoire to Broadway musicals and television in the 1950s and was particularly successful in Broadway productions of Gypsy, Mame and Sweeney Todd: The Demon Barber of Fleet Street. Lansbury is perhaps best known to modern audiences for her twelve-year run starring as writer and sleuth Jessica Fletcher on the American television series Murder, She Wrote (1984–1996). Her recent roles include Lady Adelaide Stitch in the film Nanny McPhee (2005), Leona Mullen in the 2007 Broadway play Deuce, Madame Arcati in the 2009 Broadway revival of the play Blithe Spirit and Madame Armfeldt in the 2010 Broadway revival of the musical A Little Night Music.
Awards
[
]
Angela has won a totalfive Tony Awards, six Golden Globes and has been nominated for numerous other industry awards, including the Academy Award for Best Supporting Actress on three occasions, and various Primetime Emmy Awards on eighteen occasions.
External links
[
]