We're Getting Mutants in the MCU - The Loop
Play Sound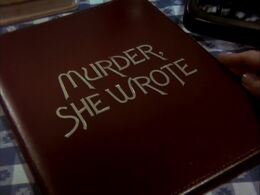 Murder, She Wrote: Season One
Murder, She Wrote: Season Two
Murder, She Wrote: Season Three
Murder, She Wrote: Season Four
Murder, She Wrote: Season Five
Murder, She Wrote: Season Six
Episodes:

"Always a Thief"
Murder, She Wrote: Season Seven
Murder, She Wrote: Season Eight
Murder, She Wrote: Season Nine
Murder, She Wrote: Season Ten
Murder, She Wrote: Season Eleven
Murder, She Wrote: Season Twelve
Murder, She Wrote: TV Movies
The Law & Harry McGraw
Novels
Games
DVDs
Production Information
[
]
Production Number:
Aired: April 8th, 1990
Written By: Peter S. Fischer
Directed By: Walter Grauman
INSERT EPISODE SCREENSHOT HERE
Created By: Peter S. Fischer and Richard Levinson & William Link
Executive Producers: Peter S. Fischer
Producers: Robert E. Swanson & Robert Van Scoyk
Summary
[
]
Jessica's friend, former jewel thief Dennis Stanton, solves a high-society collector's coin theft and murder.
Trivia
[
]
Eighth of 14 "bookend" episodes in which Jessica only appears to introduce them; the others are Murder in a Minor Key (Episode), The Grand Old Lady, Jack & Bill, Class Act, Goodbye Charlie, Murder - According to Maggie, & O'Malley's Luck. It's also the first of said episodes to feature a previous recurring character, instead of a new one.
First appearances of Robert Butler, Lt. Perry Catalano & Rhoda Markowitz, who will appear with Dennis in his later adventures.
Dennis briefly makes mention of his first appearance in A Little Night Work.
Second episode in which one of the killers also turns out to be a victim; the first was Truck Stop.
Victim(s): Pedro & Langston "Lanny" Douglas
Killer(s): Lanny Douglas (Pedro) & Andrea Douglas (Lanny)
Cause of death: Stabbed with a pitchfork; struck in head with golf trophy.
Motive: Encountered him stealing his mother's silver dollar to sell to replenish his depleted finances; anger when he announced he was dumping her, since he no longer needed her father's money.
Starring
[
]
Regular Cast
[
]
Angela Lansbury as Jessica Fletcher
Recurring Cast
[
]
Keith Michell as Dennis Stanton
James Sloyan as Robert Butler
Ken Swofford as Lt. Perry Catalano
Hallie Todd as Rhoda Markowitz
Guest Stars
[
]
Liza Blount as Andrea Douglas
Roscoe Born as Lanny Douglas
Aharon Ipale as Mahmoud Amini
Shirley Knight as Grace Lambert
Dina Merrill as Monica Douglas
Chris Mulkey as Joey Freeman
Ed Nelson as Ray Bascomb
Co-Stars
[
]
Jill Jaress as Deidre
Marco Lopez as Pedro
Virginia Hawkins as Housekeeper
Mitch Hara as Photographer
E. E. Bell - best known for his role as Barney, The Security Guard on "The Amanda Show" on Nickelodeon - as Delivery Man
DVD Release
[
]
Episode Chronology
[
]
See Also
[
]
External Links
[
]