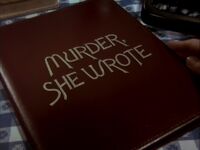 Murder, She Wrote: Season One
Murder, She Wrote: Season Two
Murder, She Wrote: Season Three
Murder, She Wrote: Season Four
Murder, She Wrote: Season Five
Murder, She Wrote: Season Six
Murder, She Wrote: Season Seven
Murder, She Wrote: Season Eight
Murder, She Wrote: Season Nine
Murder, She Wrote: Season Ten
Episodes:

"A Virtual Murder"
"Roadkill"
Murder, She Wrote: Season Eleven
Murder, She Wrote: Season Twelve
Murder, She Wrote: TV Movies
The Law & Harry McGraw
Novels
Games
DVDs
Production Information
[
]
Production Number:
Aired:
Written By:
Directed By:
INSERT EPISODE SCREENHOT HERE
Created By:
Executive Producers:
Producer
Summary
[
]
Jessica happens on a computerized clue to a murder while writing a mystery story for a friend's interactive video game company.
Victim: James Lindstrom
Killer: Sharon Baskin
Cause of Death: Gunshot
Motive: To steal a piece of software he designed and sell it for a profit.
Trivia
[
]
Final acting role of Shawn Phelan.
Oculus Rift founder Palmer Luckey said in a Wired interview that this episode inspired him to work on his virtual reality device.
The exterior of Hastings Rock in the game is remarkably similar to the castle in Murder, She Wrote: The Wind Around the Tower (1992).
The building and exterior used for the software company, Marathon Images, is the same building and exterior used as the location of the Bio-Dome in Bio-Dome (1996).
Goofs
[
]
The 2nd time Jessica is playing the game she sees two battle axes hanging on a wall and asks that they be changed to sabers. Even though a tech says the axes are now changed to sabers, what actually appears are scimitars, which have a more pronounced curve to their blades than do sabers.
Starring
[
]
Regular Cast
[
]
Angela Lansbury as Jessica Fletcher
Recurring Cast
[
]
William Windom as Dr. Seth Hazlitt
Guest Stars
[
]
Julia Campbell as Sharon Baskin
Kate McNeil as Kate Walden
Allan Miller as John Crowley
Phil Morris as David Salt
Shawn Phelan as Alex
Thomas Ryan as Dan Porter, P.I.
Kevin Sorbo as Michael Burke
Richard Yniguez as Sgt. Ignacio Delcanto (as Richard Yñiguez)
Ramy Zada as James Lindstrom
Sherman Augustus as Officer Rossi
Art Cohan as Jeremy Hastings (as Arthur Cohan)
Danny Woodburn as Mr. Townsend
Wayne Bolton as Colonel Fleming
Shoshana Henri as Carrie Brandeis
Heaven Brooke as Servant Girl
Ryal Haakenson as Man in Restaurant (uncredited)
Episode Chronology
[
]
See Also
[
]
External Links
[
]