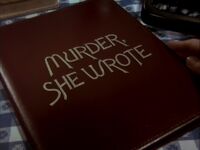 Murder, She Wrote: Season One
Murder, She Wrote: Season Two
Murder, She Wrote: Season Three
Murder, She Wrote: Season Four
Murder, She Wrote: Season Five
Murder, She Wrote: Season Six
Murder, She Wrote: Season Seven
Murder, She Wrote: Season Eight
Murder, She Wrote: Season Nine
Murder, She Wrote: Season Ten
Murder, She Wrote: Season Eleven
Episodes:

"A Nest of Vipers"
Murder, She Wrote: Season Twelve
Murder, She Wrote: TV Movies
The Law & Harry McGraw
Novels
Games
DVDs
Production Information
[
]
Production Number:
Aired:
Written By:
Directed By:
INSERT EPISODE SCREENHOT HERE
Created By:
Executive Producers:
Producer
Starring
[
]
Regular Cast
[
]
Recurring Cast
[
]
Guest Stars
[
]
Summary
[
]
When a zoo worker is found dead near a wandering snake, his death is ruled as an animal attack, but Jessica suspects that it was no accident.
Victim: Mark Atwater
Killer: Joyce Hacker
Cause of Death: Black Mamba venom injection
Motive: He was the only thing stopping her from bulldozing the zoo in order to access the patch of land behind it that she had inherited from her late husband.
When Joyce had gloves on to inject the venom into Mark Atwater, they can't prove that the syringe much less the vial was used by her, now can they & then there's this, isn't it very odd that when they had played up the flashback to show that Mark, Joyce & the Congressman were in on it together, doesn't even correlate with what Mark's girlfriend had seen the night of the party?
Episode Chronology
[
]
See Also
[
]
External Links
[
]