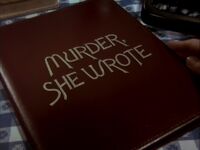 Murder, She Wrote: Season One
Murder, She Wrote: Season Two
Murder, She Wrote: Season Three
Murder, She Wrote: Season Four
Murder, She Wrote: Season Five
Murder, She Wrote: Season Six
Murder, She Wrote: Season Seven
Murder, She Wrote: Season Eight
Murder, She Wrote: Season Nine
Murder, She Wrote: Season Ten
Episodes:

"A Killing in Cork"
"Roadkill"
Murder, She Wrote: Season Eleven
Murder, She Wrote: Season Twelve
Murder, She Wrote: TV Movies
The Law & Harry McGraw
Novels
Games
DVDs
Production Information
[
]
Production Number:
Aired:
Written By:
Directed By:
INSERT EPISODE SCREENHOT HERE
Created By:
Executive Producers:
Producer
Summary
[
]
While visiting Ireland, Jessica searches for clues when a widowed friend's son is suspected of killing an American relative.
Victim(s): Robert Griffith and Ambrose Griffith
Killer: Dennis Moylan
Cause of Death: Pushed from a bell tower; strangulation.
Motive: To successfully expand the factory he planned to build onto the Griffith family's land.
Trivia
[
]
Although set in Ireland, no filming was actually done there.
Starring
[
]
Regular Cast
[
]
Angela Lansbury as Jessica Fletcher
Recurring Cast
[
]
Guest Stars
[
]
Wendy Benson-Landes as Siobhan Kennedy (as Wendy Benson)
Gordon Currie as Sean Griffith
Fionnula Flanagan as Fiona Delaney Griffith
Dakin Matthews as Dennis Moylan
Gerald S. O'Loughlin as Father Timothy
Cyril O'Reilly as Patrick Griffith
Donnelly Rhodes as William Mahaffy
Andrew Robinson as Ambrose Griffith
Mark Rolston as Sgt. Terence Boyle
Bridgette Wilson-Sampras as Emily Griffith (as Bridgette Wilson)
Udana Power as Una O'Reilly
Michael Connors as Eric
Lee Magnuson as Barman
Paul Ivy as Duffy
Mark Leahy as Shopkeeper (uncredited)
Episode Chronology
[
]
See Also
[
]
External Links
[
]